Inspiration for communication
We are happy to help you communicate about our collaboration. Below you will therefore find various examples of how we could help you with your communication. Feel free to contact us if you like.
On our download page you will also find various logos, images and texts free to use.
Cheques
If you have been donating for a while, you probably already have an impressive meter reading.
We are happy to visit you with a large check so that we can take pictures and share them on social media.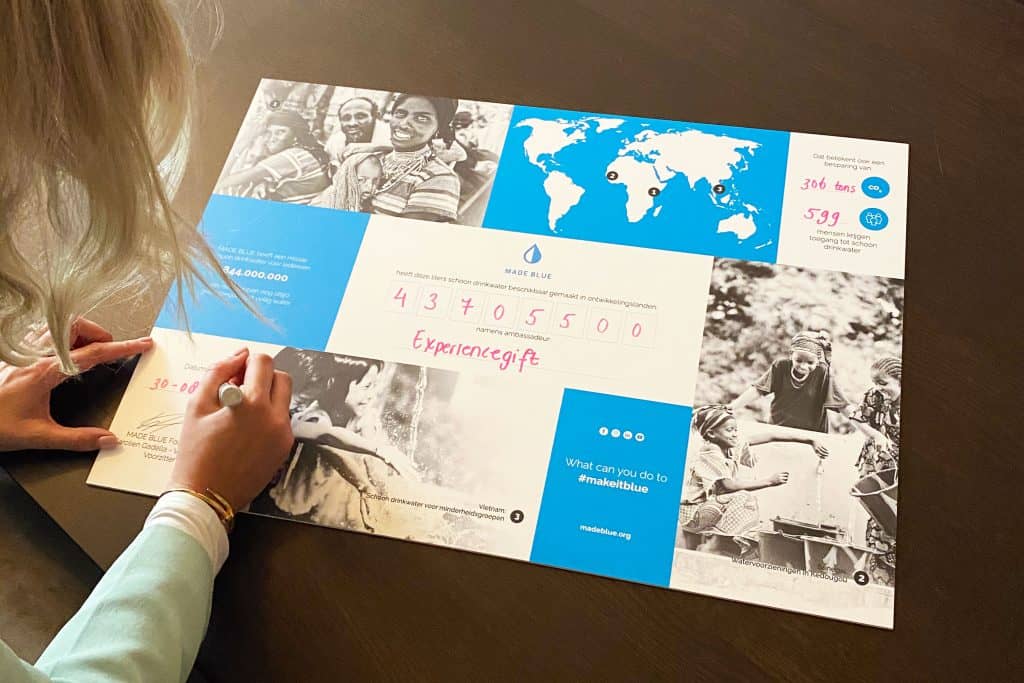 Social media
We regularly post about one of our ambassadors and we love to share what you post.
Check out our social media channels for inspiration and tag us:
LinkedIn: @made-blue
Instagram: @watermadeblue
Facebook: @watermadeblue
Are you still looking for inspiration to share something?
Think about your personal meter reading that you find in our newsletters and enter it in our impact calculator.
Share one of our articles from the page Why. Or share your own impact plate that you can request from us.
Videos and animations
We can make a lot ourselves, which is so cheap and fast.
Check out our YouTube channel for more examples.
Personal video message
We made this video for O2life during an event and for social media. Would you also like to have a personal video message made? We are happy to do it for you, at no cost! The only condition: share, share and share again.
Animation
We can put together an animation with logos, texts and images like the one on the right for Smixin for you. This way you have a tool for your presentations and social meslide. Ask us about the possibilities.
Infographic video
We made this infographic video for Tennant Company and their Spanish distributor. This is still used in many presentations and on the website and shows very nicely how our collaboration works. We have a video like this made by an external agency and therefore requires some investment.
Blogs and interviews
PR and press
Would you like to include us in a press release or link us to your PR agency? No problem, of course!
We are happy to look with you and provide text input, photos and quotes.
We ourselves work together with a PR agency with which we visit the press every month.
That yielded for example, these beautiful articles with Novotel Schiphol and La Trappe.
Sub-certificates
Would you like to let your customers know how much water you have donated on their behalf?
Request our sub-certificates. You can easily enter the customer name and the number of liters on it.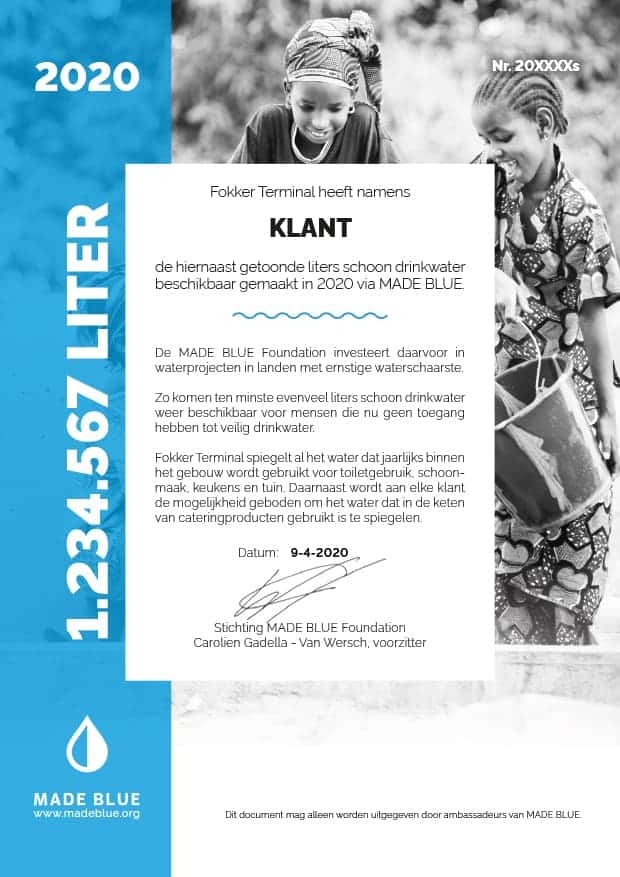 Promotional gifts
How about a message in a bottle? The Bottle Made Blue is perfect for that and very affordable.
Write a nice message and roll it in the bottle to story to tell your guests, customers and colleagues.
Prefer a different sustainable bottle? We have more many more.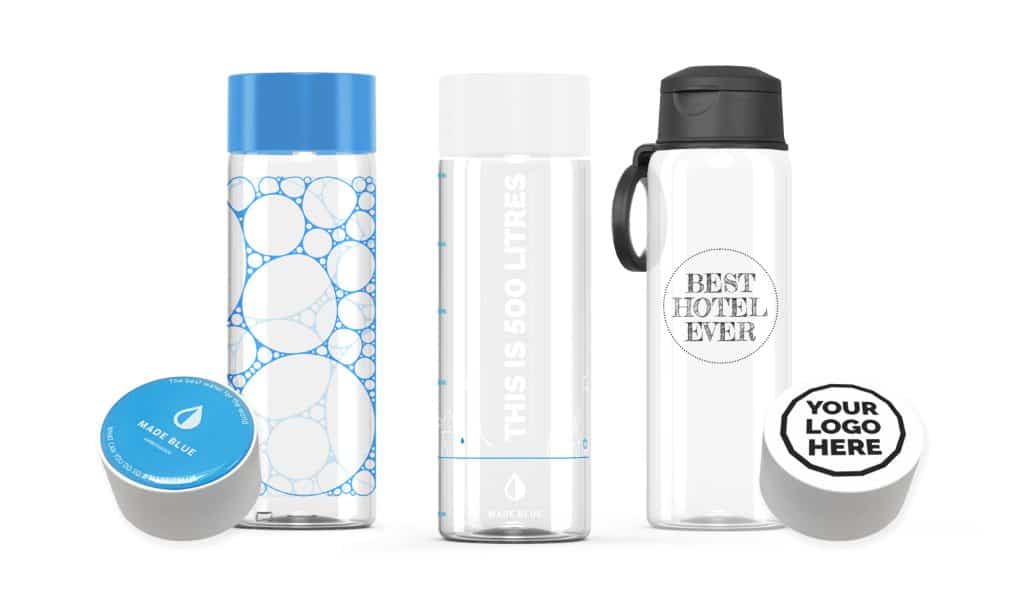 Example landing pages
One litre for one litre
Hospitality
Texts
These texts may be useful to use as a basis:
Our water projects
Latest project updates
Do you need anything else?
Fill in this form and we will contact you as soon as possible.