The alternative to packaged water: the Bottle Made Blue
We would like to put an end to the nonsense of packaged water. Sometimes that is challenging: not everyone always has a refillable water bottle with them and available alternatives are expensive to give away (for free). We therefore developed a very affordable and reusable water bottle with an enormous impact: the Bottle Made Blue.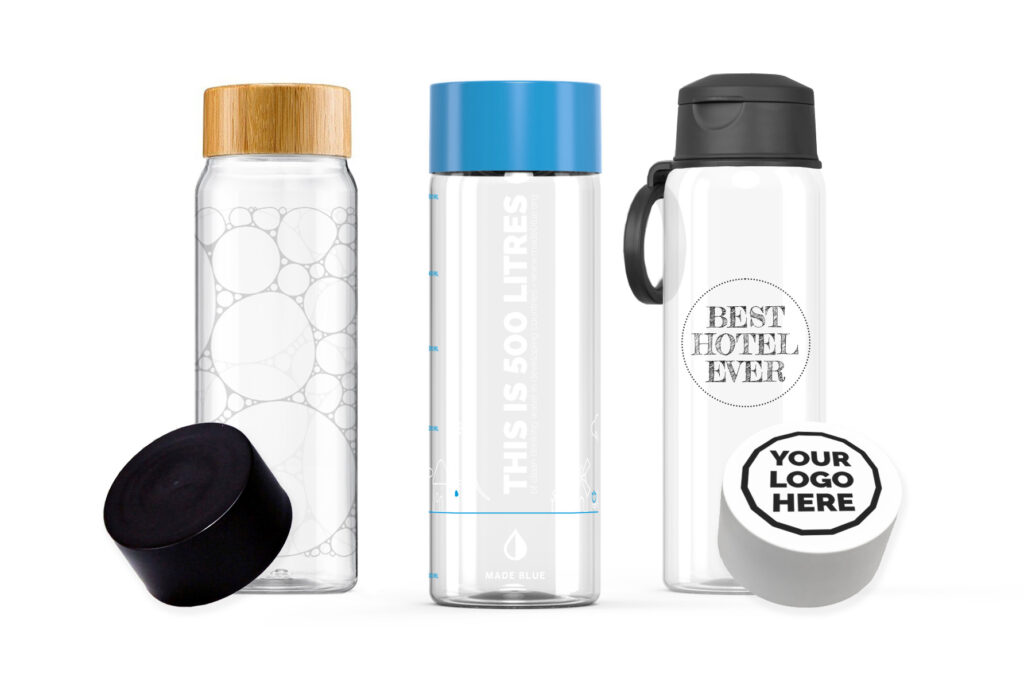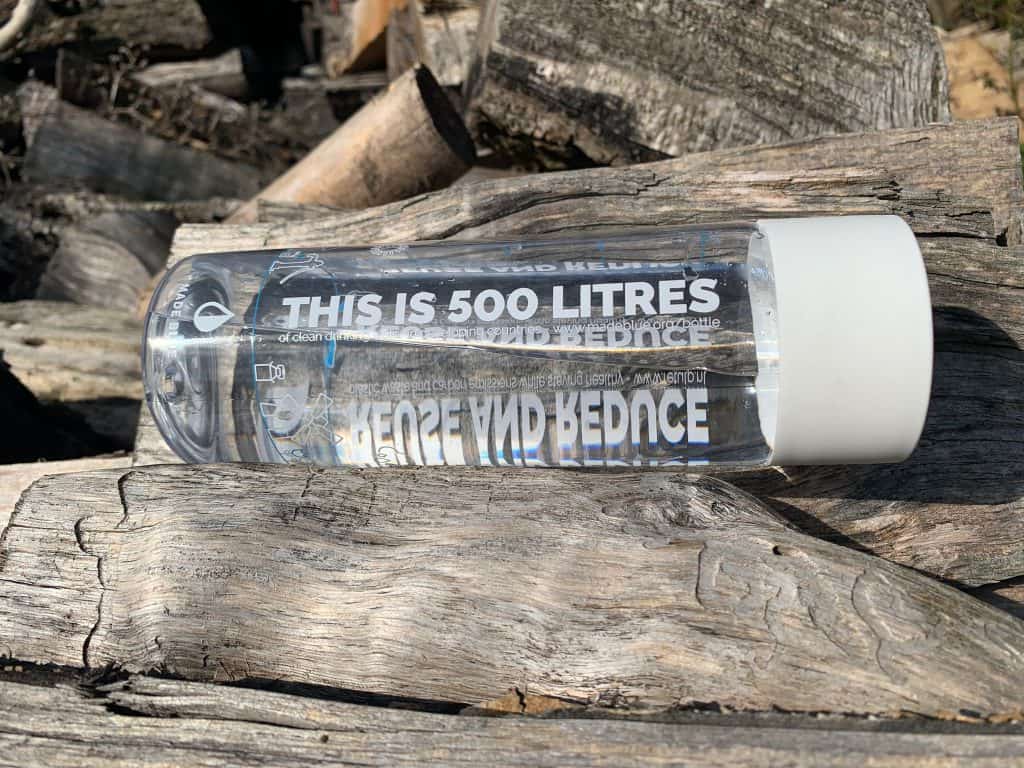 500 litres per bottle
This is the Bottle Made Blue: a BPA-free glass-like water bottle, unbreakable & dishwasher safe, long-life & 100% recyclable, made in The Netherlands.
Never before has a reusable bottle of this quality been so affordable and fully customizable: starting €1,50 each.
Most importantly, each bottle provides 500 litres of clean drinking water in our water projects, ensuring access to clean water and hygiene for a child at school for about 6 months.
Meanwhile it is also saving at least 3,5kgs of carbon emissions and preventing 4+ kgs of plastic waste. Read more about this…
Water bottle with print
The Bottle Made Blue is available from stock from 100 pieces with a striking Made Blue print. The bottle can then be personalized with a logo on the cap (per 100 pieces), a 'message in the bottle' or a doming sticker.
If you want to have this sustainable water bottle printed, you can do that from 1,250 pieces at very favorable rates, both in one color and full-colour. Contact us contact to see what suits you best.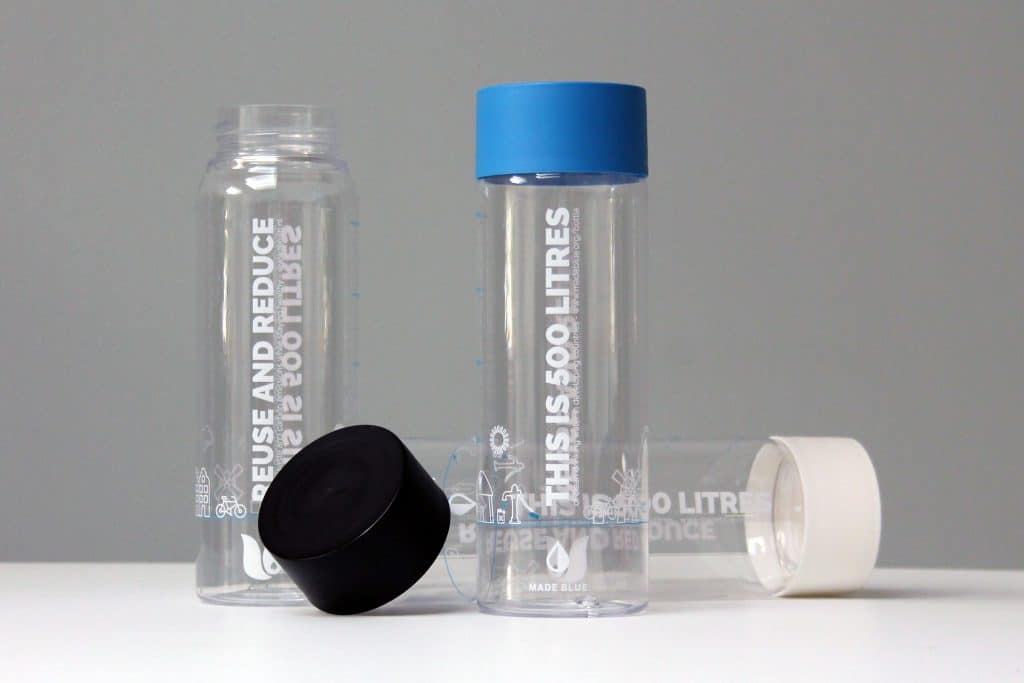 This easy-to-implement and sustainable initiative has so many benefits: elimination of single-use plastic bottles, less manual handling by domestic workers, less transportation to and from the hotel, unlimited refills for hotel guests and 500 litres of water donated for every bottle sold.
Floris Licht, General Manager Novotel Amsterdam Schiphol Airport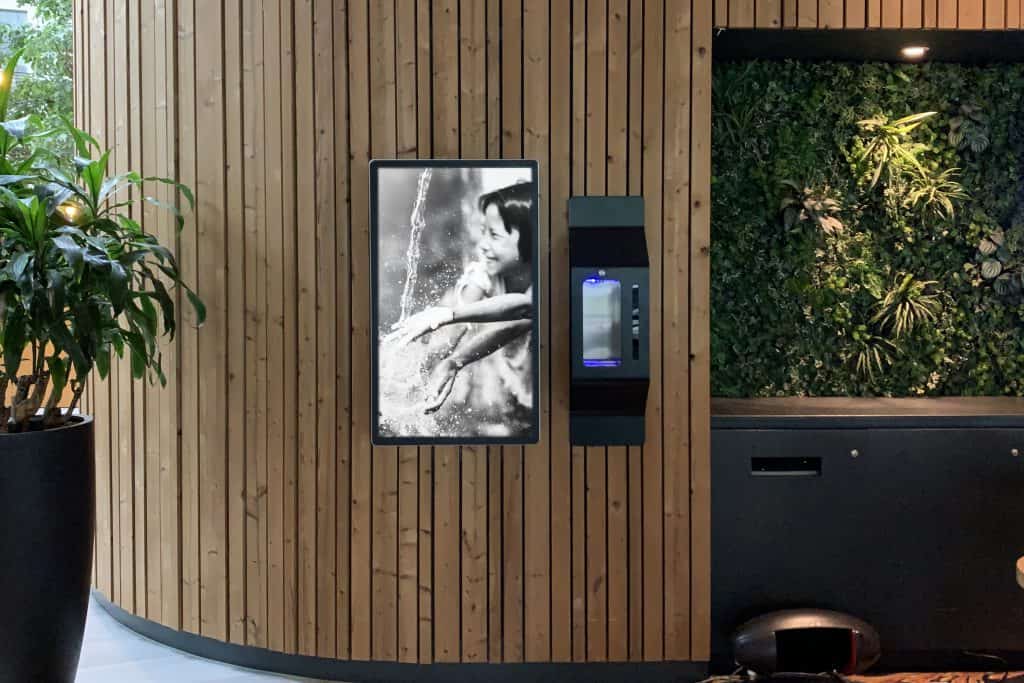 Free water bar?
Let your guests fill their own bottle with filtered (and cooled) tap water, that's so sustainable! It also saves you a lot of work and you have a nice communication point, such as this example from Novotel Amsterdam Schiphol Airport.
Purchase or rent a water fountain at cost price from Made Blue. Combined with Bottle Made Blue implementation, we are even able to offer a water fountain free of charge.
There are water taps in many shapes and sizes: built-in, surface-mounted, free-standing, with or without bubbles. Read all about it on our page about water coolers.
Less expensive than PET?
Packaged water quickly costs 50 cents and then there are additional costs for collecting and disposing of the waste. There are also many social costs involved: the 'true price' of packaged water is up to twice higher than the cost.
The Bottle Made Blue can be used for a cost that is lower than packaged water. We are happy to explain how!
With a retail value of €14.95, the Bottle Made Blue is the best packaging for on-the-go water for your guests, for you and for the world. Also choose the Bottle Made Blue and help put an end to the nonsense of packaged water.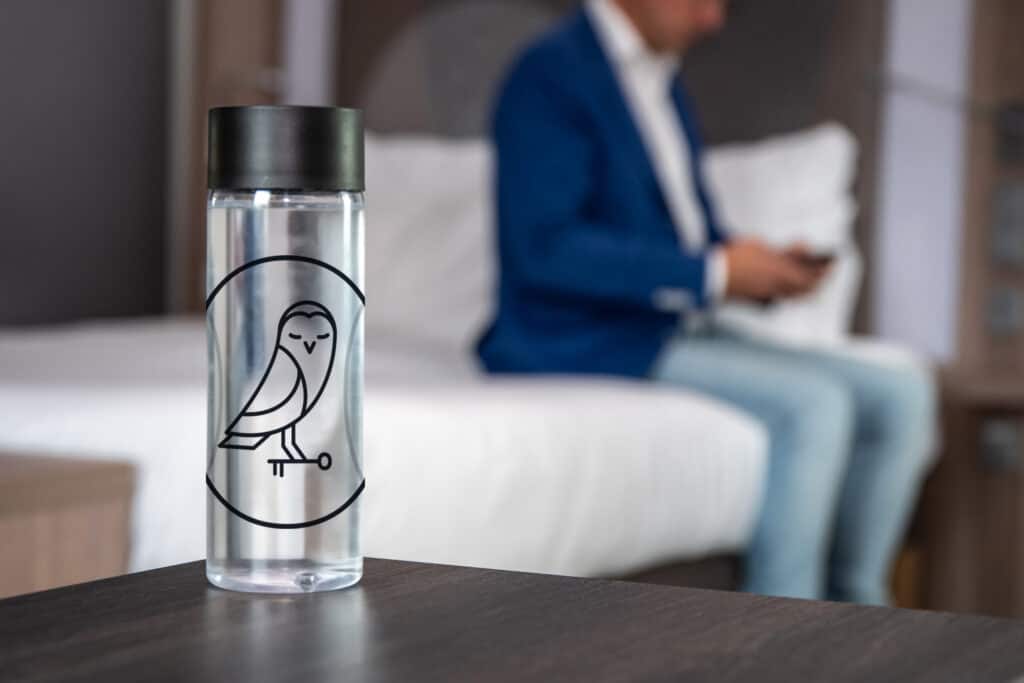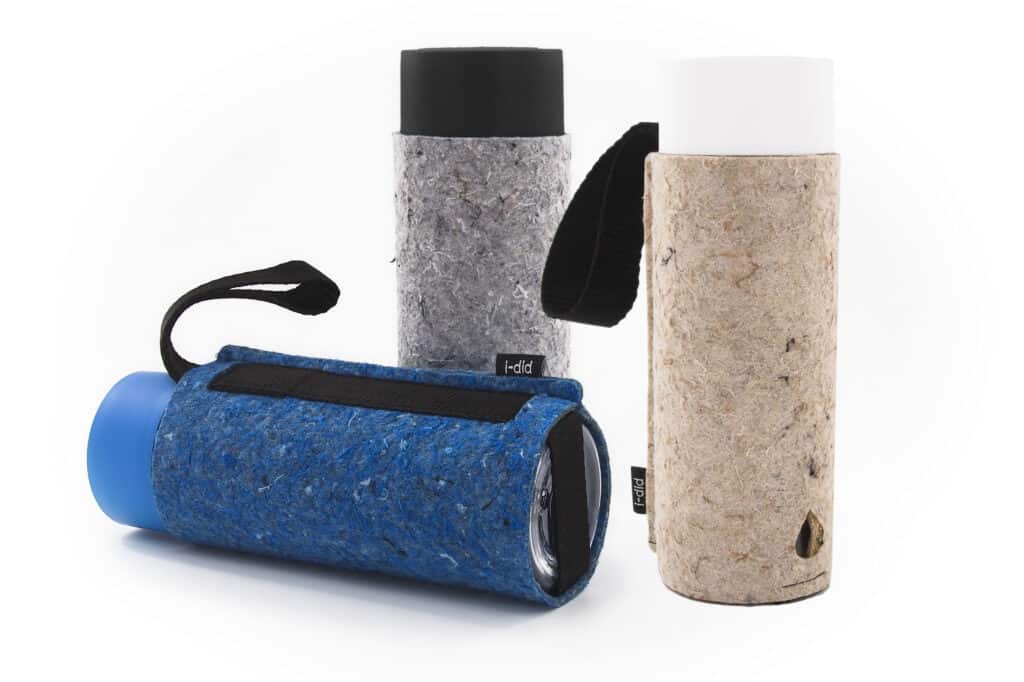 SLEEVES
Our ambassador i-did designed this sleeve from recycled textile made in a sheltered workshop. You can provide it with a stamp, a cut-out or a logo on the label.
This makes this bottle even more sustainable and you have a unique story in your hands that will make your guests or customers think of you often.
The sleeves are available in several colours, including the blue of recycled KLM uniforms!
More information
Fill out the form below and we will contact you immediately!
Not what you're looking for?
We have many more reusable water bottles, glassware and even prepackaged water. Together they are the best water for the world!
May be you want to read these updates too:
13.5 billion litres on World Water Day 2023
As every year, we are announcing our meter reading on World Water Day: since our start, we have already produced more than 13.5 billion litres of clean drinking water on behalf of more than 500…
Read more
Clean water update: 771 million people
The WHO and Unicef released a report late last year on access to water and sanitation in 2020. Fortunately, we are moving in the right direction: from 785 million to 771 million people without access…
Read more