SUSTAINABLE WATER BOTTLES
Surprise your guests, customers or employees with sustainable water bottles and put an end to the nonsense of disposable bottles together with Made Blue. Our reusable water bottles are all BPA-free and you can have your logo or own design printed in small quantities.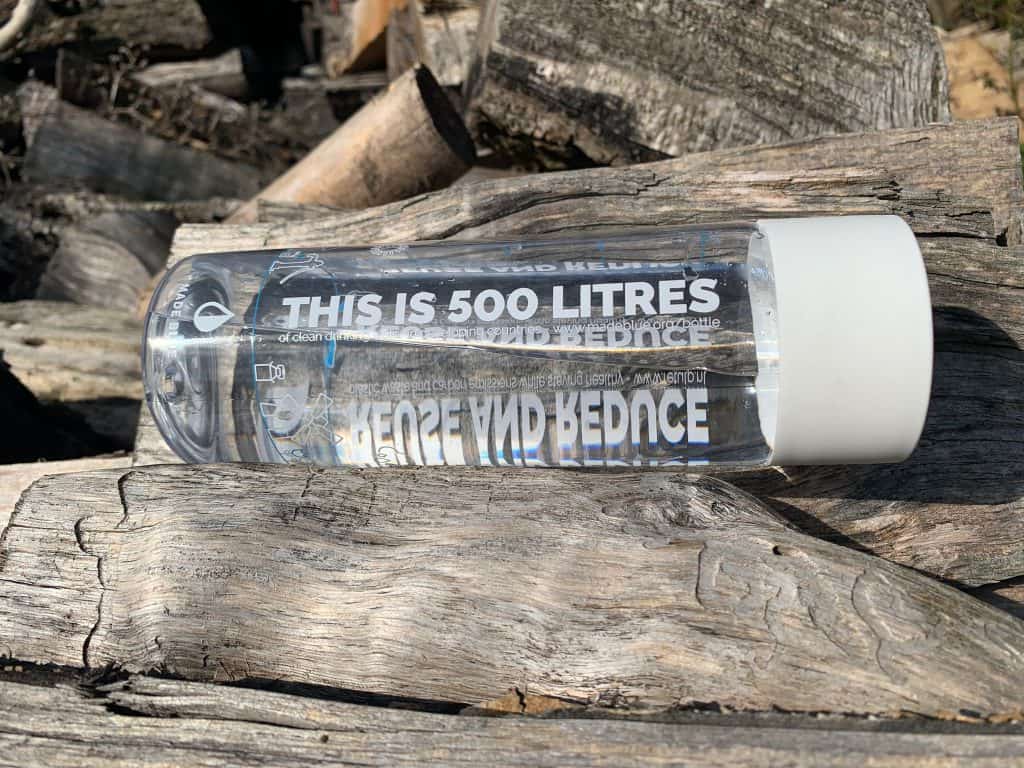 Each bottle provides 1000 times its contents of clean drinking water in our water projects. In this way, together we ensure access to clean drinking water. Do you choose our very affordable Bottle Made Blue or a sturdy stainless steel (thermos) bottle from one of our partners?
BOTTLE MADE BLUE
We developed a sustainable, reusable water bottle with a huge impact: the Bottle Made Blue, indestructible and stylish yet very affordable and therefore ideal as a give-away, for example at events or in your hotel.
The bottle is available from stock in a box of 54 pieces, but can also be fully customized printed per pallet or available per piece with a stylish sleeve. Configure the Bottle yourself below or request a brochure now.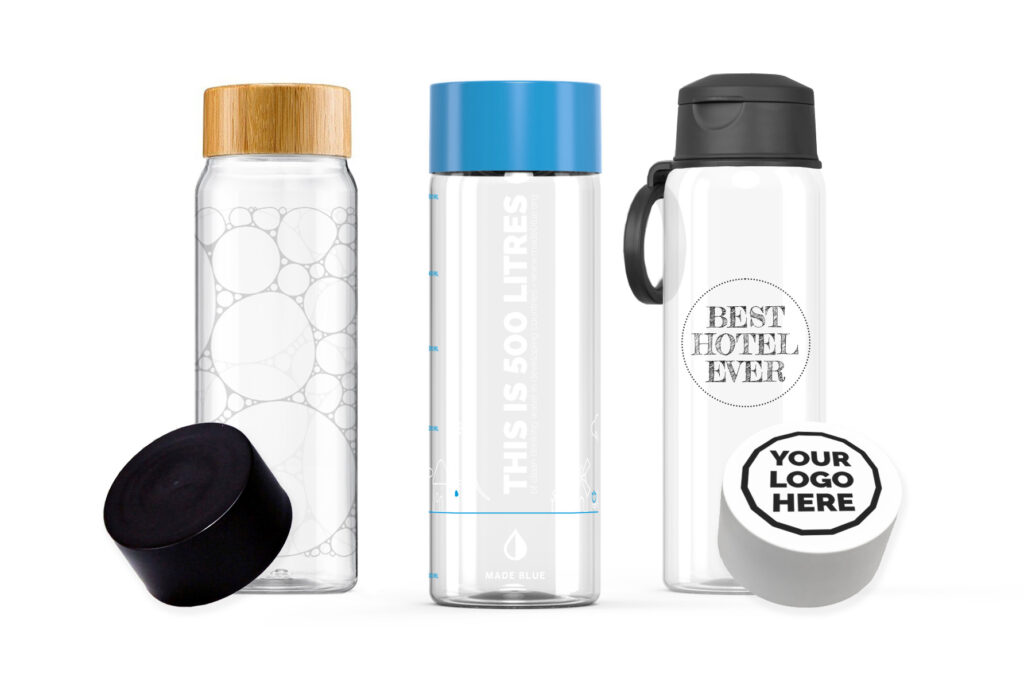 Characteristics
500ml transparent bottle, rock hard but unbreakable
1,000 times as much clean drinking water
From 1,75 euro with a retail price of 14,95
BPA-free and produced in the Netherlands
Dishwasher safe and with a long service life
Per box of 54 pieces from stock
Cap with logo from 108 pieces
Can be printed in full color per pallet of 1300 pieces
Can be ordered individually with sleeve via i-did
Can be combined with a free* Made Blue water point.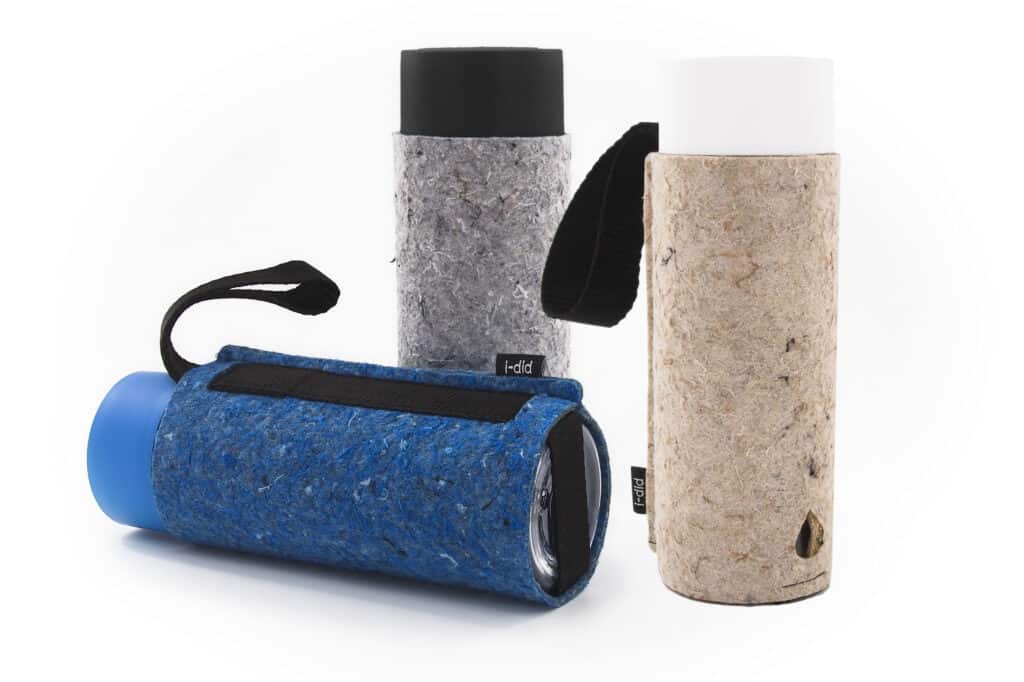 also available individually, with sleeve
Our ambassador i-did designed this sleeve from recycled textile made in a sheltered workshop. You can provide it with a stamp, a cut-out or a logo on the label.
This makes this bottle even more sustainable and you have a unique story in your hands that will make your guests or customers think of you often.
The sleeves are available in several colours, including the blue of recycled KLM uniforms!
You can also order a Bottle Made Blue with sleeve individually via the i-did website.
Less expensive than PET?
Packaged water easily costs 50 cents and on top of that there are additional costs for collecting and removing the waste. There are also many social costs involved: the 'true price' of packaged water is up to twice higher than the cost price.
The Bottle Made Blue can be used in hotels and at events at a cost that is lower than packaged water. This can be done in two ways: have guests return the bottle after use, rinse it easily and hygienically in the dishwasher and reuse the bottle several times.
You can also ask for a small contribution for the bottle. The message on the bottle entices guests to purchase the bottle for a small amount.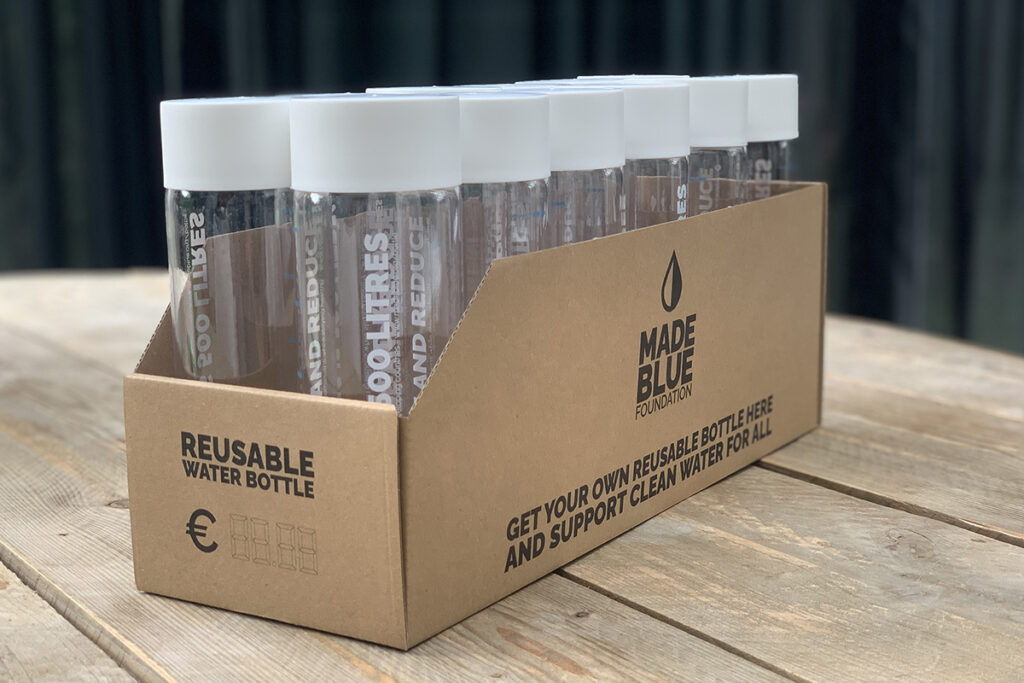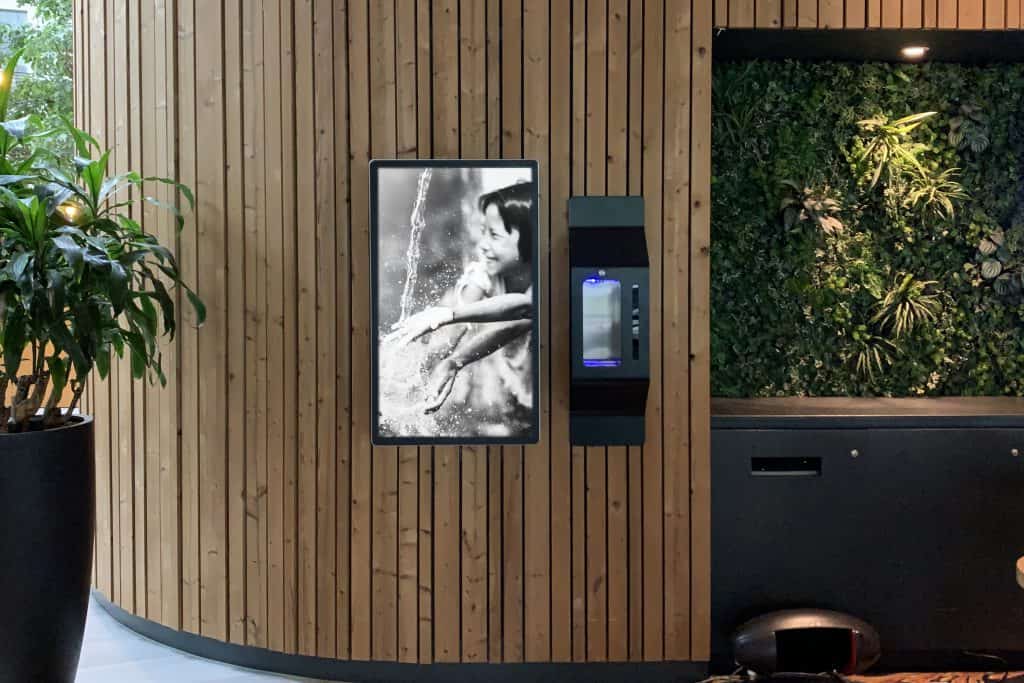 Free water point?
Let your guests fill their own bottle with filtered (and chilled) tap water. That's about as sustainable as it gets. It saves you time in setting up the hotel rooms for each guest and offers a nice place to communicate with them. See for example this water tap from Novotel Amsterdam Schiphol AIrport.
We offer water taps at cost price or as a lease, including maintenance and service In combination with the use of the Bottle Made Blue, we are even able to offer the tap for free if there is sufficient volume.
There are water taps in many shapes and sizes: built-in, surface-mounted, free-standing, with or without bubbles. Let us advise you without obligation.
This initiative has so many benefits: elimination of single-use plastic bottles, fewer manual actions by housekeeping staff, less transportation to and from the hotel, unlimited refills for hotel guests and 500 litres of water donated for every bottle sold.
Floris Licht, General Manager Novotel Amsterdam Schiphol Airport
Partners
Our donors ReTulp and IZY-Bottles also have an extensive collection of stainless steel water bottles with or without thermos function. They donate 1000 times the contents to our water projects for every bottle sold.
Have your bottle provided with a logo, printed all around or even engraved and thus contribute to clean drinking water for everyone.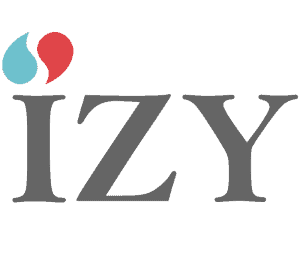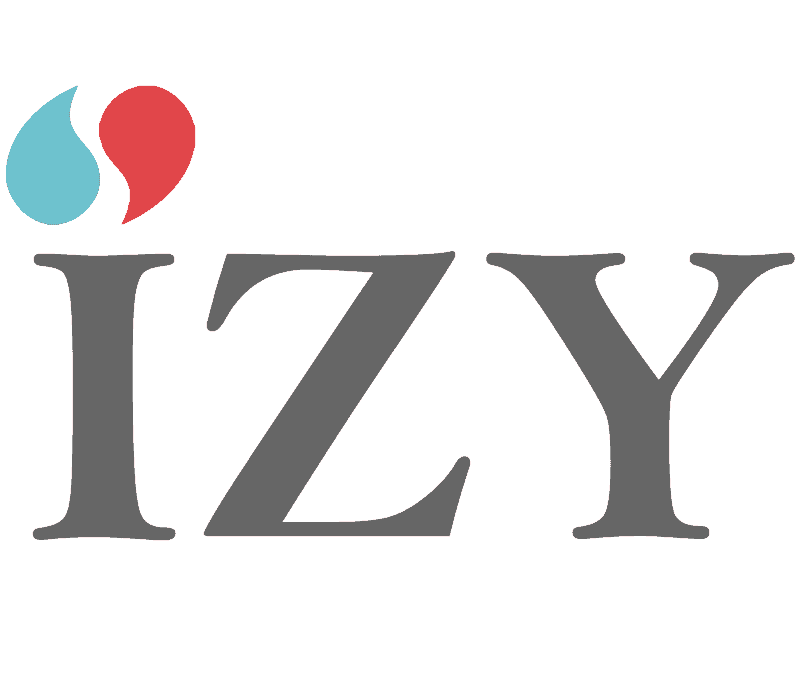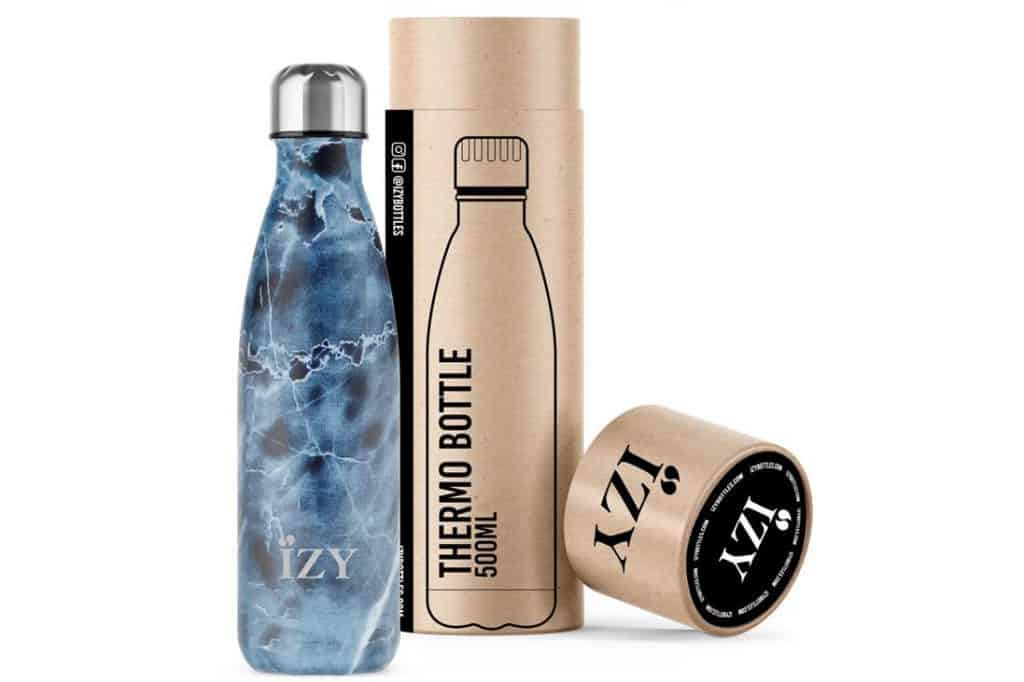 IZY-BOTTLES
Check out this remarkable insulated bottle by ambassador IZY. Choose from many prints available and add custom print or engraving if you wish.
Double-walled stainless steel (thermos) in 500 and 350 ml
Cold for 24 hours or hot for 12 hours
Various beautiful designs available
Custom printed / engraved from 30 pieces
From 10 euros and in 48 hours
1000 times as much clean drinking water
Also to be ordered per item in the IZY webshop.
Our employees were pleasantly surprised and enjoy sustainable water on the road while advertising our business.

Retulp bottles
Our ambassador Retulp carries an extensive portfolio of stainless steel bottles, insulated flasks and bio sports bottles. All can be custom-design printed and ensure 1,000 litres of clean water being made available elsewhere.
Various colours, also fusions and bamboo
From 2.50 euros (water bottles) or 8.00 (stainless steel)
Custom printed/engraved from 48 pieces
Also available per piece (without print) in the Retulp webshop
Made Blue print available
1000 times as much clean drinking water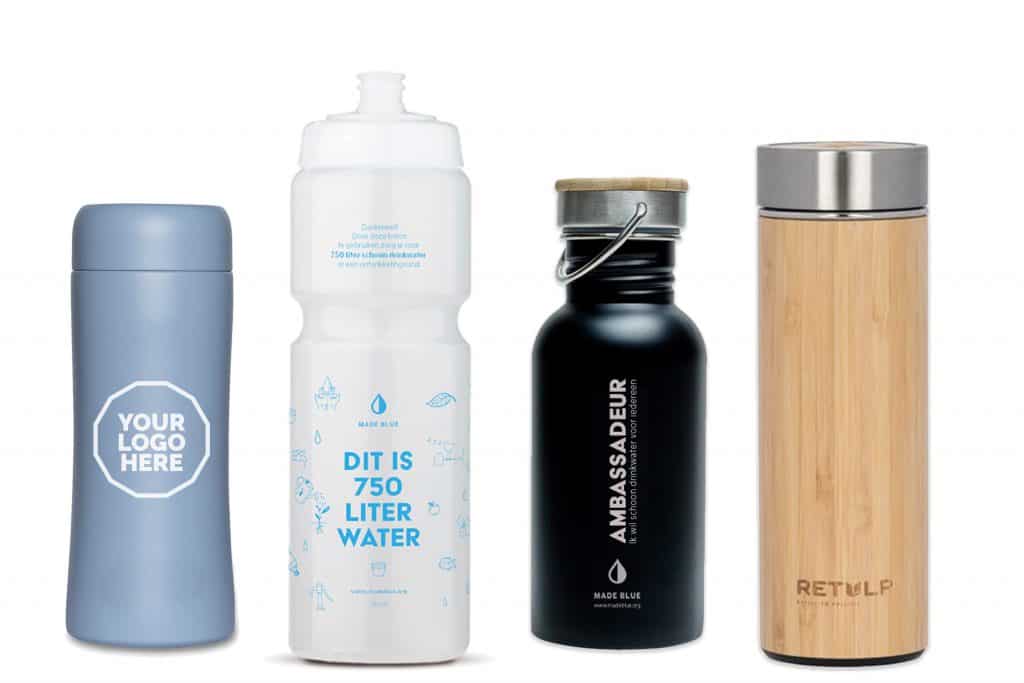 Tell me more
Fill out this form and we'll get back to you right away
CLEAN WATER FOR ALL
That is our mission. That is why the best water on the road also provides clean drinking water in developing countries. Each sustainable bottle provides 1000 times the volume of drinking water and pre-filled bottles each provide 100 times the volume of water in, for example, Ethiopia or Vietnam.
What is BPA?
Bisphenol A (BPABisphenol A) is a chemical found in many products. BPA is used in plastics that are used in, for example, building materials, electronics, plastic bottles, (food) packaging material, implants, infusion equipment and toys. ( Source: RIVM)
There is recent evidence of possible damage to the development of the immune system when exposed to BPA even at a dose lower than that on which the current European standard is based. That is why the RIVM recommends that the current European standard for safe exposure be reconsidered. In addition, the RIVM recommends reducing exposure to BPA where possible. This can be done by developing safe alternatives or by ensuring that less BPA is released from products in which this substance is used.