Water in hospitality
Rent or buy a water dispenser from Made Blue at cost price and tap chilled and sparkling water.
Donate 21 cents for every bottle of water you tap to provide 1000 times as much clean drinking water.
That is the best water for the world and for your business!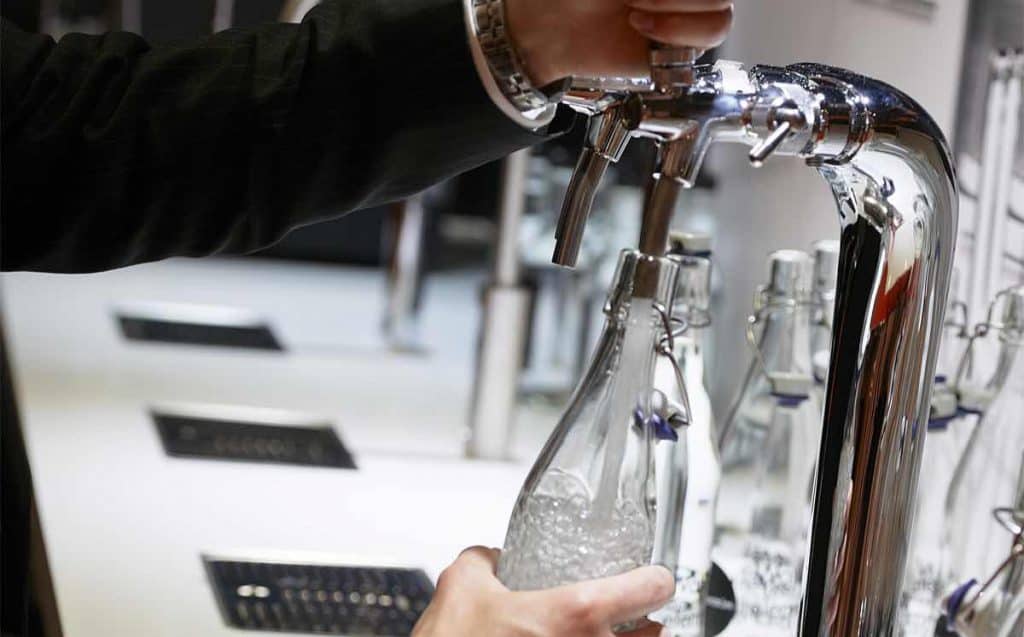 CHOOSE YOUR WATER DISPENSER
We have a suitable water machine for every situation:
for small lunchrooms up to and including large restaurants or hotels,
from 15 to 280 liters of water per hour,
optionally even with minerals, hot water and portion control..
Tabletop
You place a table model water tap on a worktop. Under the worktop, connect the water cooler to a washing machine tap and place the carbon dioxide and possibly a filter.
Our tabletop water dispensers look good and add to the storytelling. Also, less space is required underneath the counter.
Built-in
A built-in or under-counter water dispenser is placed underneath a surface, on which a new or existing tap tower is used to dispense water.
A wide variety of tap towers is available, also less space is needed on the counter when compared to tabletop water dispensers.
Freestanding
Most water dispensers can be fitted with a cabinet, enabling the dispenser to be placed anywhere. Also, filter and CO2 cardridge can be placed inside the cabinet.
Any location near a connection to a water main and power outlet will do, there's no space required in or on existing cabinets or counters.
Requirements
Ask us to take care of the water dispenser installation, free of charge in hotels and restaurants. Check out this video to see how it works.
What you need is an available washing machine tap at a short distance, a power connection and enough space for ventilation. In our placement conditions you can see the dimensions per cooler.
In some cases, water- or powerlines need to pass through existing structures: a check by the property owner may be needed.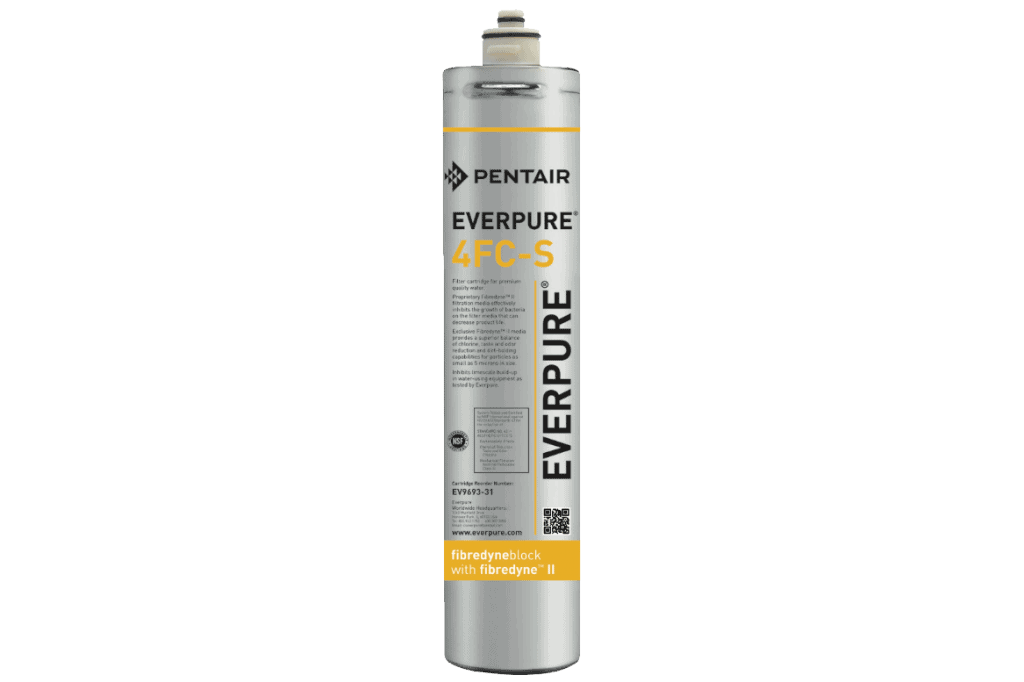 FILTERS
To ensure serving the best water for your guests, your business and the planet, we fit an active carbon filter. Active carbon is a natural product that binds particles up to 0,2 micron in size. A perfect tasting water is guaranteed.
Additionally, the filter prevents calcium deposits, both inside the dispenser as well as in glassware. Healthy (calcium) minerals remain in the water, but deposit is prevented. Filters are changed every 12 months or 10,000 litres as standard.
ALREADY HAVE A DISPENSER OR WATER TAP AVAILABLE?
Do you already have a water dispenser? Then there's no need to switch: join Made Blue using existing equipment and donate for every litre served… in Made Blue glassware if you like.
Do you have a tap tower to spare? In most cases we're able to fit a built-in water dispenser, saving additional space and costs.
Communication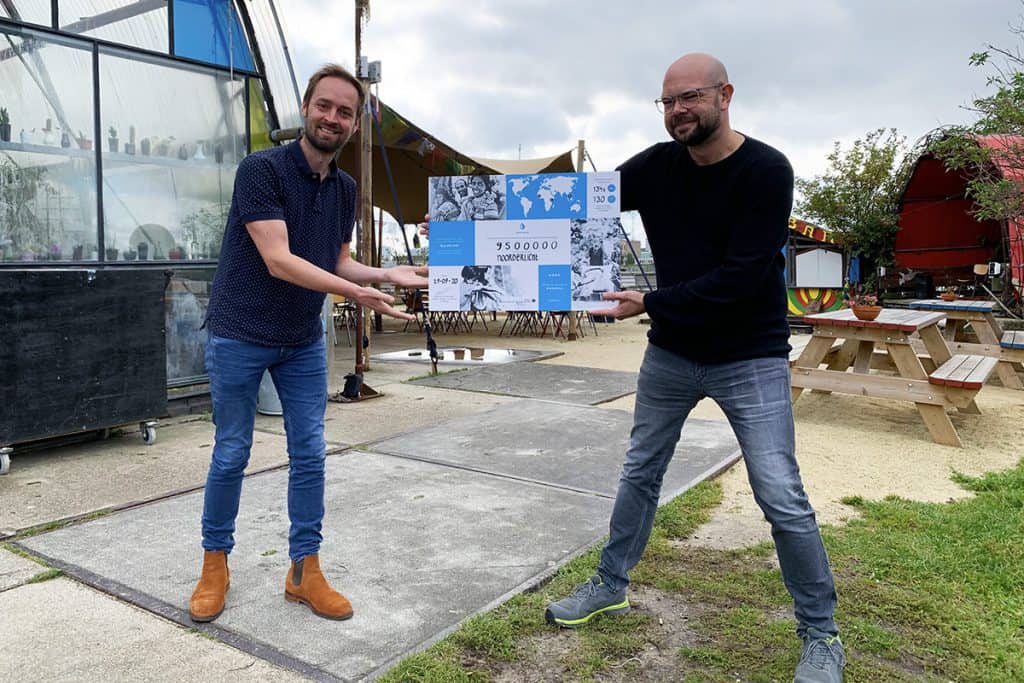 Why join?
Soil
Gustavo van Soil of Amsterdam talks about their concept and why he chose to serve Made Blue water. "We are proud to participate in this network", he says in the interview, "and it fits perfectly to our sustainable strategy."
We now carry our own water brand with a unique and impactful story, which guests are happy to pay a fair price for.
The Student Hotel
We visited The Student Hotel and spoke with Impact Manager Amber Westerborg about their vision for the future and how Made Blue fits within the concept.
What does it cost?
Because made blue is not-for-profit, a water dispenser can be leased at low price. The same goes for buying equipment straight away and always including:
Annual maintenance
Service and parts
All fittings for water and CO2
Communication materials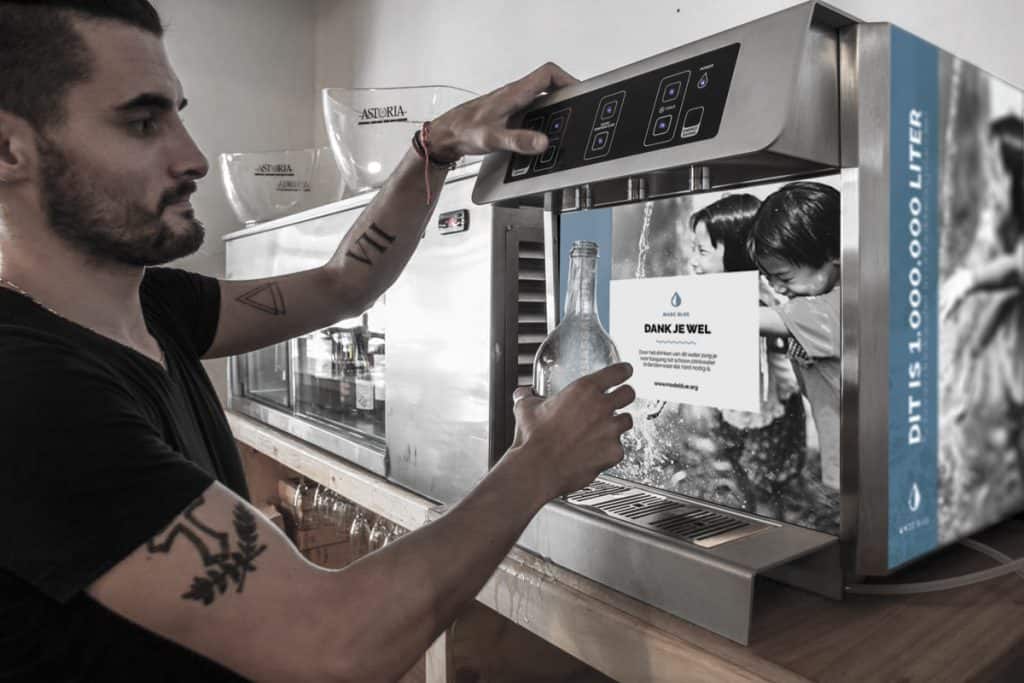 As of 60 euros
Lease a water dispenser as of EUR60 per month and serve the best water for your guests, your business and the planet: filtered, chilled and still or sparkling. We'll install the equipment free of charge and connect all peripherals.
Donate 21 Eurocents per 700ml bottle of water served (30ct/litre) and based on a monthly average. Together we ensure that each and every bottle delivers 1,000 times as much clean water in developing countries, time and again. Serving about 100 bottles per month? Then a €21 donation is all it takes.
Water dispenser lease is paused automatically in case the government imposes temporary closing or lock-down.
Looking for advice for your location, multiple dispensers, tailor-made glassware, to-go solutions or more information on how we operate in developing countries? Reach out to us.
CHARGE MONEY FOR TAP WATER?
Are guests willing to pay for tap water? We've conducted an independent research showing guests are willing to pay up to 75% more for water with a distinctive story.
Tell me more
Fill out this form and we'll get back right away
Frequently asked questions
How is clean water made available?
We invest in water projects from local partners with a proven track record. Before, during and afterwards, we check the work to ensure that we reach the agreed number of people. We always involve the local population and government for a lasting effect.
Read more on how we work…
How does 30 eurocents result in 1,000 litres of water?
We are very transparent about this: 20 cents is immediately reserved for investments in the water projects. We use 10 cents to communicate, innovate and to further increase our impact, for example by investing in new concepts.
Read all about our spendings…
How much do I donate?
We make a joint estimate on the average monthly volume of water served: a 21 eurocent donation per 700ml bottle covers 1,000 times as much water being delivered elsewhere. Serving about 100 bottles per month? Then a monthly €21 donation will do. Of course this can be adjusted up or down at any point in time.
Why is Made Blue not for profit?
As a charity, we don't need to make money on equipment sold or leased. To us, water dispensers and glassware are a means to collect donations for clean water. This results in a win-win as this facilitates low costs and good margins for participating locations.
Why is there a 36-month contract period when I want to buy a water dispenser instead of lease?
We ask for a 36-month commitment on donations to ensure being able to make enough impact on behalf of all of our donors. Equipment to us is a means for gathering donations, the sale of a dispenser itself does not add to our mission.
Can I also donate using third-party equipment?
Of course you can! You'll receive a communication package and glassware if you want and will join as a made blue ambassador.