Save water in your hotel
(Hot) water is the second largest energy user for an average hotel and that is a considerable cost item with the current gas prices.
What if you could convince guests to take shorter showers in combination with some water-saving techniques?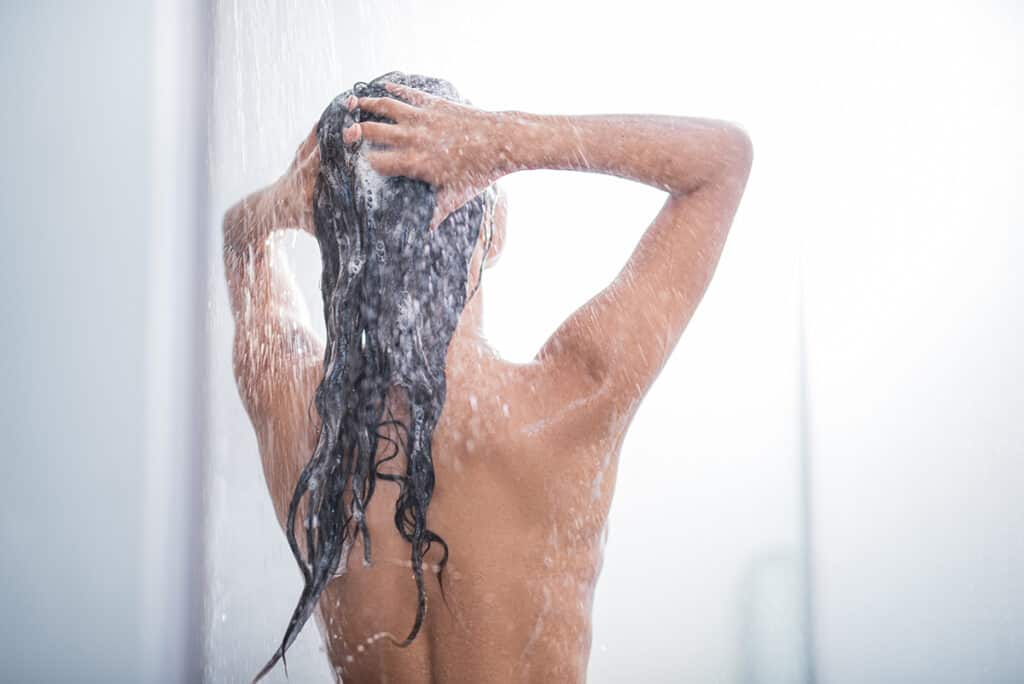 Huge expense
Enjoying water in the hotel room is a matter of course for us, but it is by no means free. On average, guests enjoy a shower in a hotel room for no less than 7.5 minutes. In addition, the water comes from the tap at the sink and flushes the toilet.
With the current prices for water and electricity, the costs rise to more than one euro per guest per night. For a hotel with 200 rooms, this quickly exceeds 50,000 euros per year.
Enjoy water to give water
We let you save an average of 100 litres of water per hotel night by involving the guest in a nice way. Your guest can then donate these litres to a water project of their choice. For example, every overnight stay provides a whole day of clean drinking water for a family in Uganda or Bangladesh, for example.
We have calculated that a guest only needs to shower 15 seconds shorter to recoup a donation of 5 cents per night. (That is 3% shorter with an average shower of 7.5 minutes.) So every extra second or water-saving technique immediately yields a lot of money. Calculate below how much it can yield for you.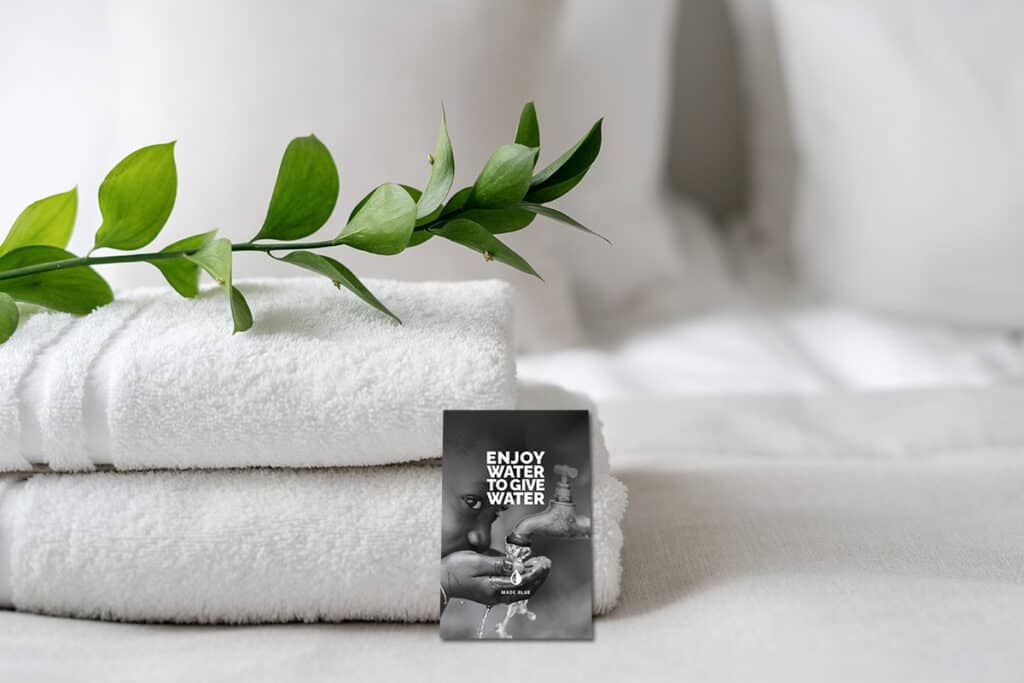 Calculate your potential savings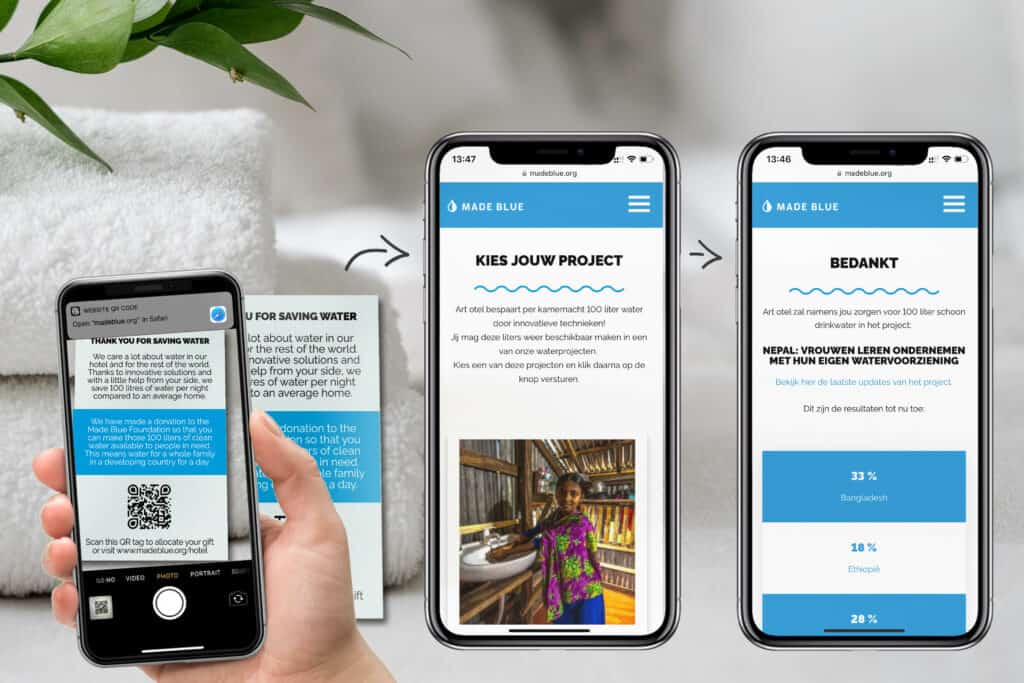 Interaction with your guest
Our free communication materials such as stickers, door hangers or towel cards ask the guest to donate the saved 100 liters on your behalf to a water project of your choice. Would you rather design your own communication? We are of course happy to help you with texts, images and examples.
This makes it clear to the guest that your hotel uses water consciously and the guest is subtly stimulated to cooperate. We also give tips to the guest on what he or she can do to help.
Sustainability in your hotel
With a few water-saving techniques that do not lead to less comfort, you can already save a lot of water in the hotel room. The investment quickly pays for itself. Many of our ambassadors can help you with this.
Do you want to make your hotel more sustainable? With this program you save water and energy. This way you give substance to sustainable quality marks such as Green Globe, Green Key, the EKO Quality Mark and you have a chance to win a Gaia Green Award.
Complete your story by serving locally bottled water and with reusable bottles in the hotel room. May we help you?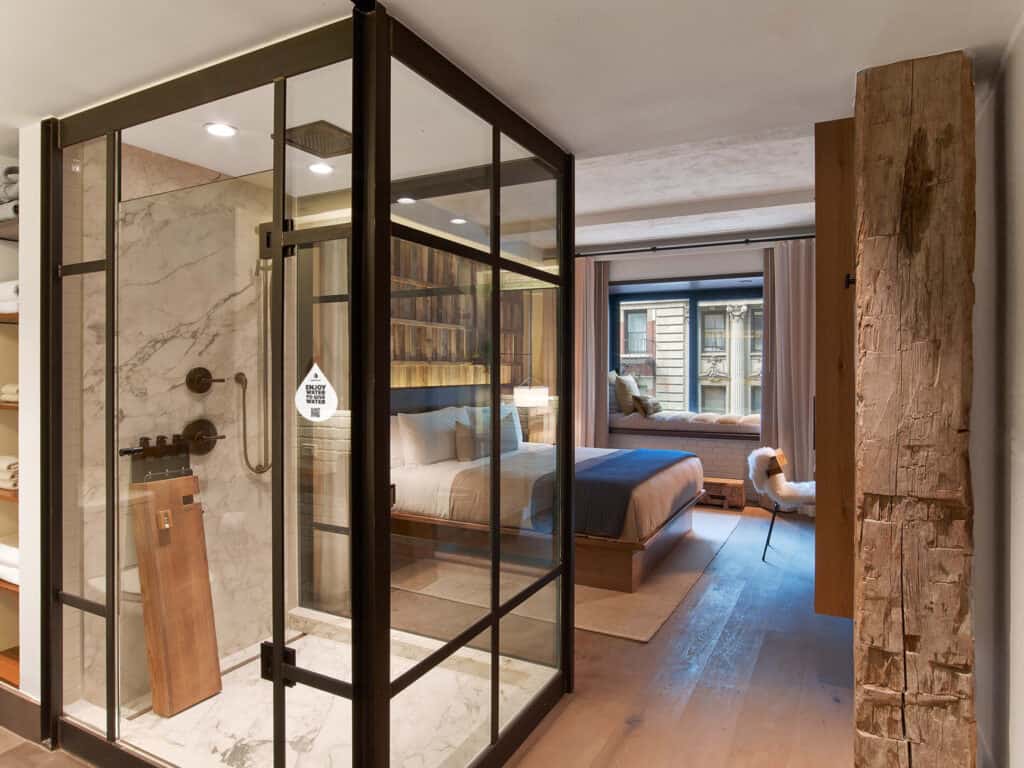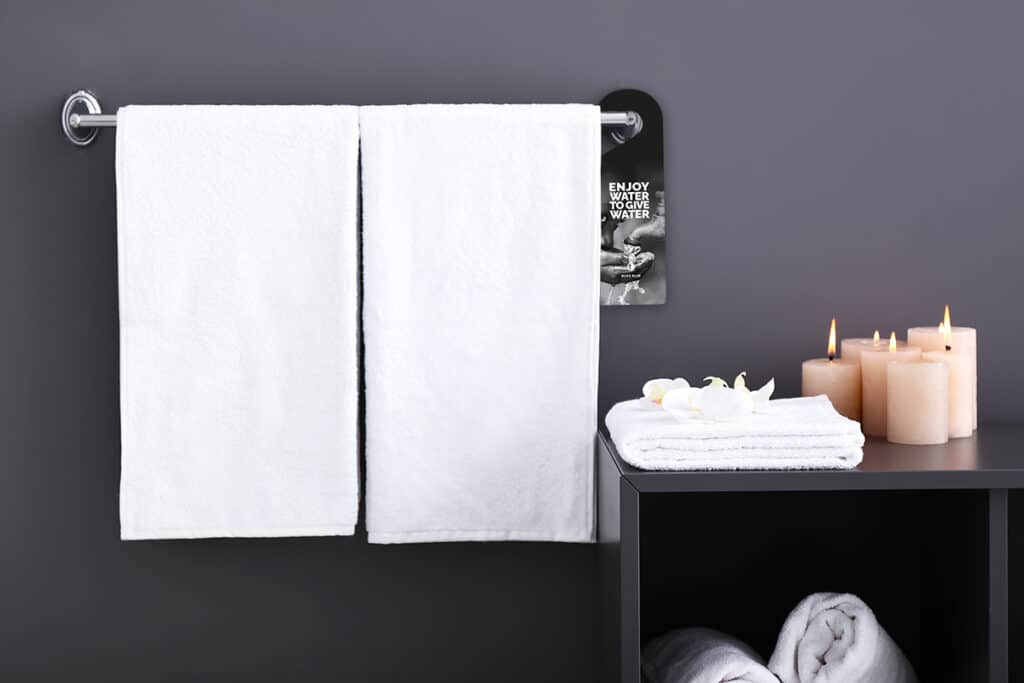 They already joined

Water in the hotel room
Water in the hotel room is part of it, but it does create a lot of waste and deposits have made PET bottles expensive.
We have the perfect alternative: a reusable, sustainable water bottle that guests can fill themselves in the lobby.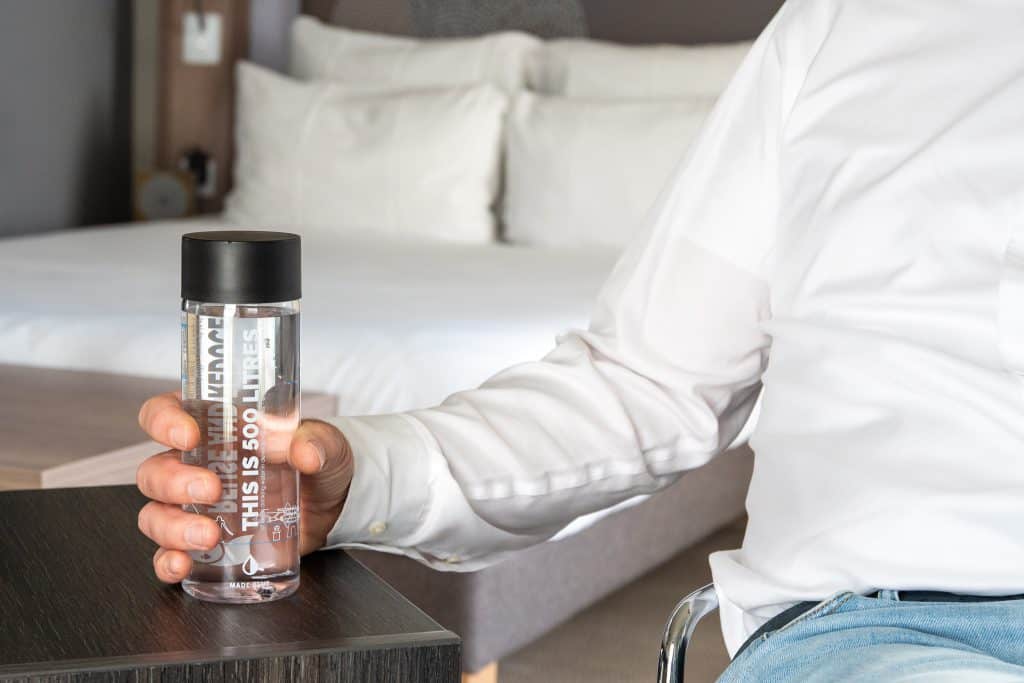 The Bottle Made Blue
A reusable water bottle made of indestructible Tritan: rock-hard, crystal clear and unbreakable. The bottle is BPA-free, made in the Netherlands, recyclable and dishwasher safe.
Never before has a reusable water bottle of this quality been so affordable and completely customizable: available from €1.50 each.
Most importantly, each bottle provides 500 litres of clean drinking water in our water projects! At least 3.5 kg of CO2 emissions are also saved and more than 4 kg of plastic waste is avoided. Read how it works here…
Water point for guests
Let your guests fill their own bottle with filtered (and cooled) tap water, that's so sustainable! It also saves you a lot of work and you have a nice communication point, such as this example from Novotel Amsterdam Schiphol Airport.
A water tap is available at cost, or can be borrowed including maintenance and service. In combination with the use of the Bottle Made Blue, we are even able to offer the tap for free under certain conditions.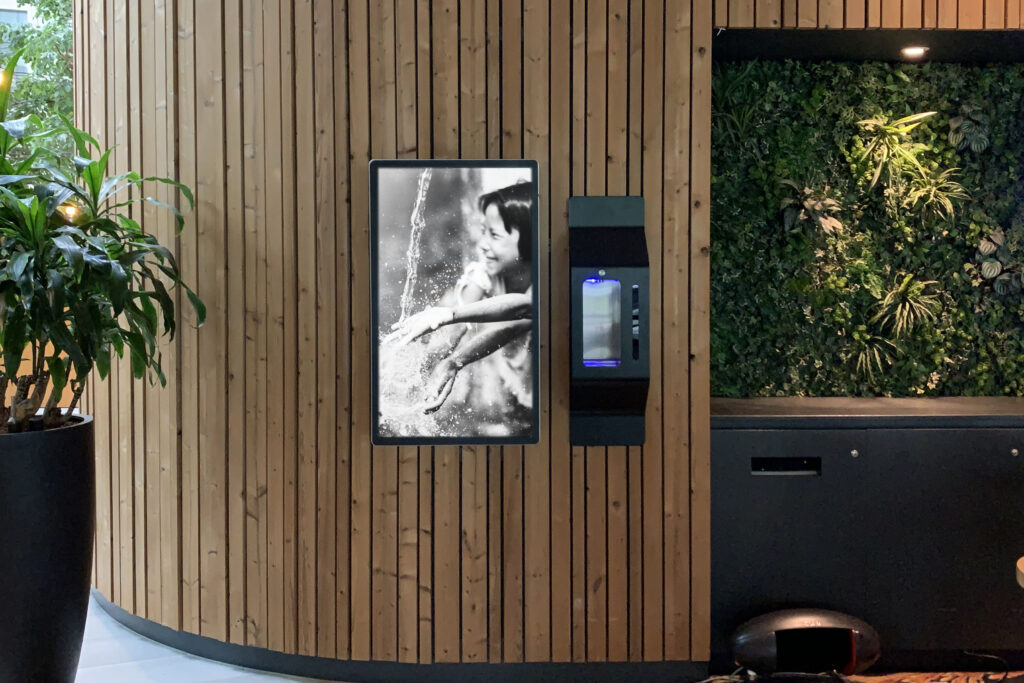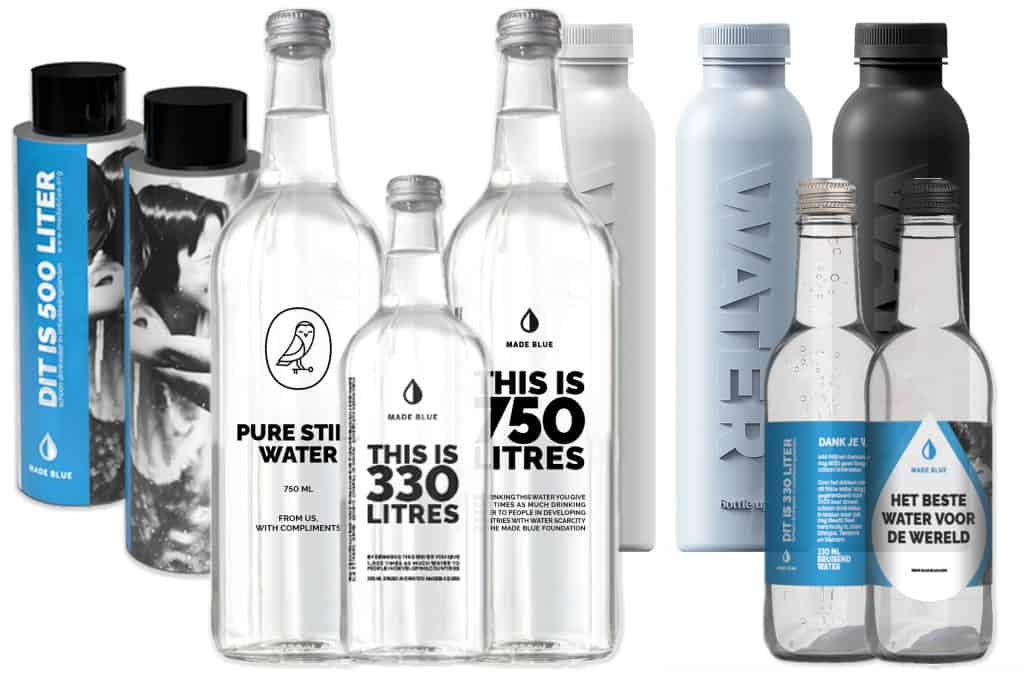 Bottled water
Perhaps you prefer to put pre-packaged water in the hotel room? We also have various affordable solutions for this, but always with a strong message: 100 liters of water per package.
We can deliver from stock or via wholesalers, but also with our own design in certain quantities. We like to think along with you.
Made Blue offers us a total package for smart use of water in the hotel, both in the room and in the restaurant. The business case was quickly made.
Why join?
Mövenpick
In this video by Mövenpick Hotel show how they have been working on sustainability for years together with Blycolin and Made Blue.
The Student Hotel
The Student Hotel serves locally bottled Made Blue water in all its locations. In this video, Impact Manager Amber Westerborg explains why.
771,000,000
This many people still do not have access to clean drinking water. They have a day job fetching water. Water that is often still polluted, too, resulting in many diseases and child deaths. We want to do something about that, but always in a way that works sustainably for everyone. Would you like to contribute?
Serve water
Tell me more
Fill out this form and we'll get back right away
They can help you save water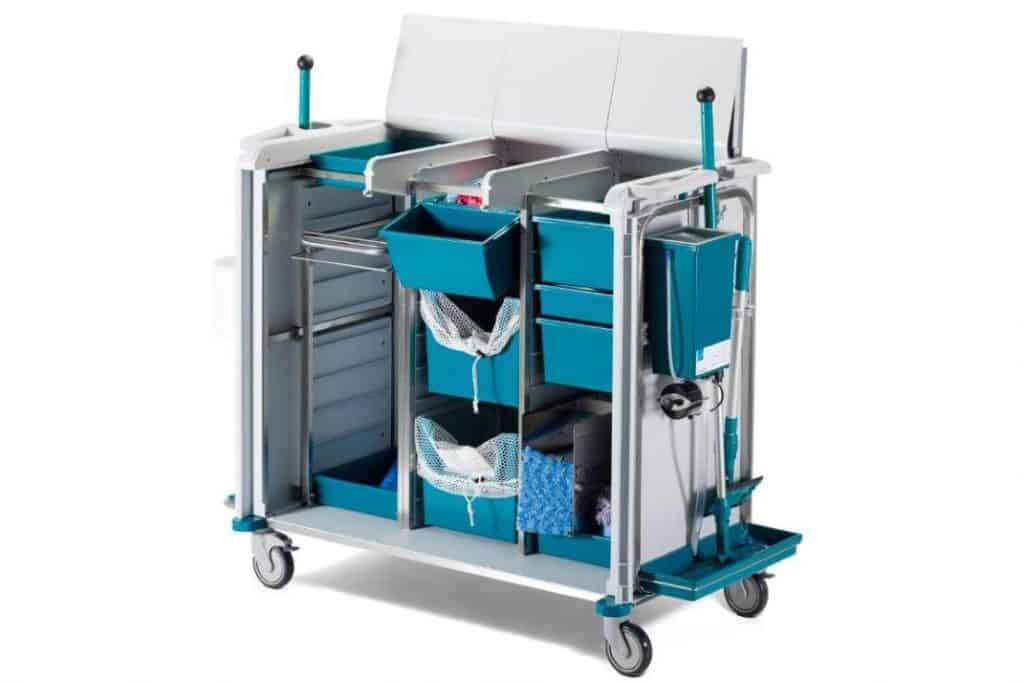 Vebego
This family business houses several cleaning companies. Thanks to innovative techniques, they save a lot of water, which they convert into drinking water.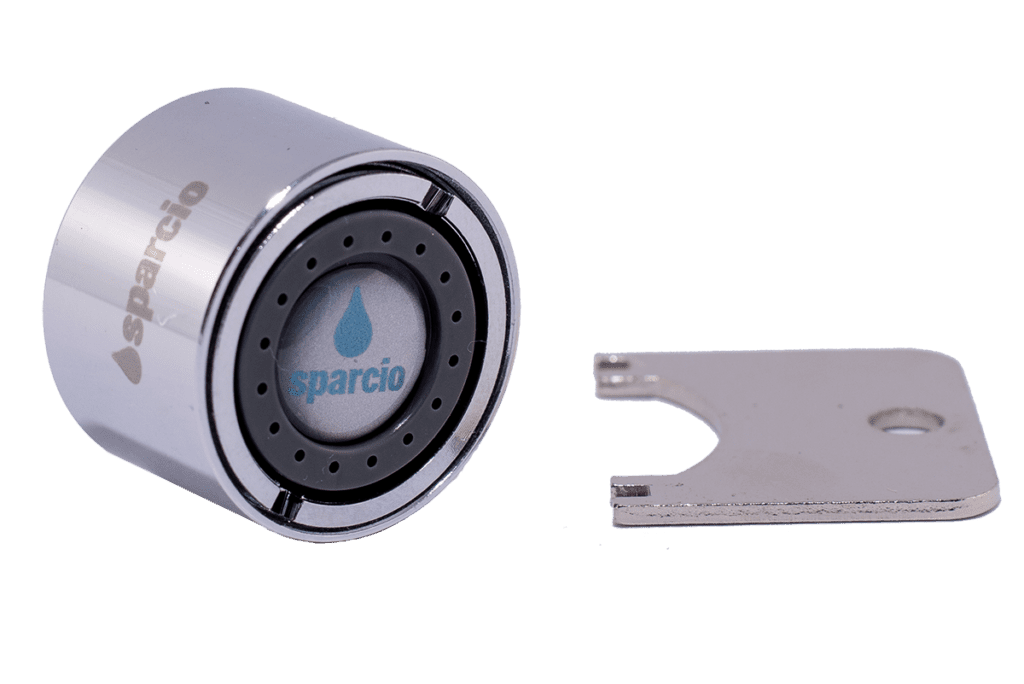 Sparcio
The water-saving techniques of Sparcio ensure that saving water comes naturally without sacrificing comfort.
Clear Circle
With packaging that can be reused again and again, Clear Circle saves a lot of waste and energy in the production of cleaning products.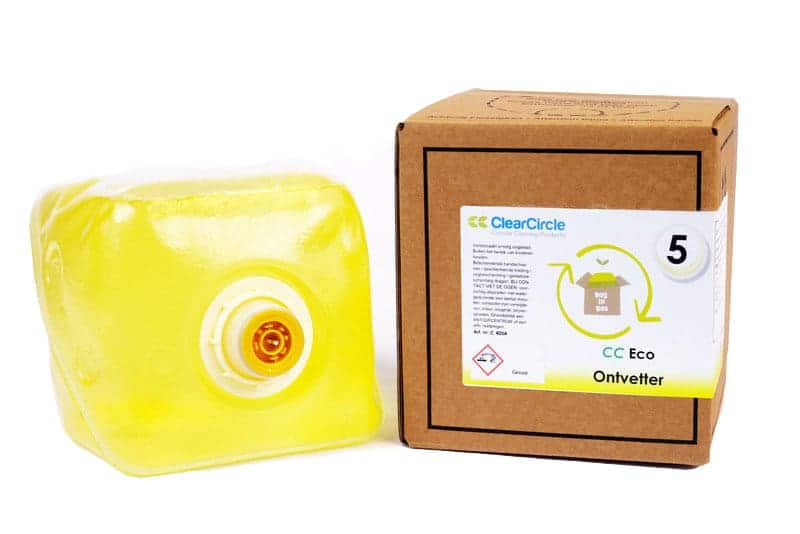 Blycolin
Blycolin supplies and cleans textiles for the hospitality industry in an increasingly sustainable way. Blycolin donates the remaining water consumption to Made Blue.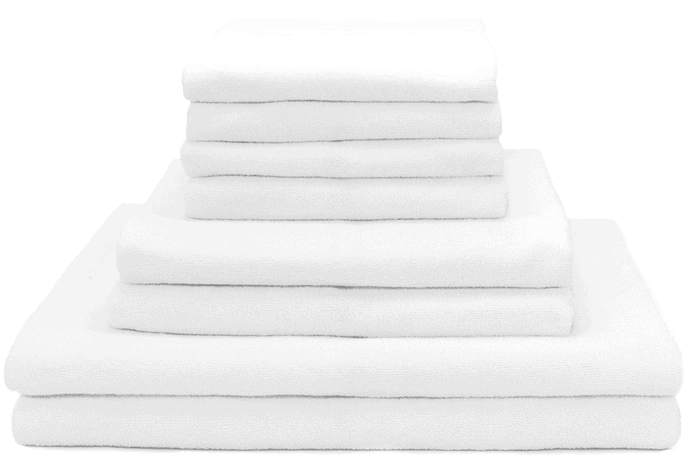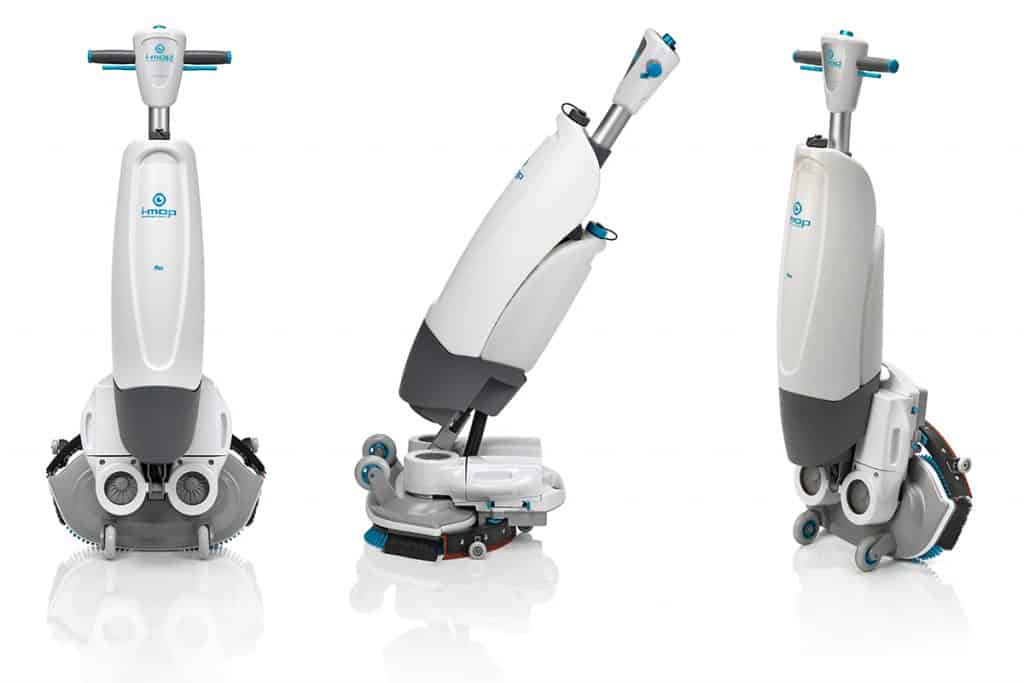 I-team
The innovative cleaning machines from i-team save a lot of water and give it water to our projects.
Niebla
The water-saving shower heads from Niebla save up to 5 liters of water per minute and 5,000 liters of clean drinking water.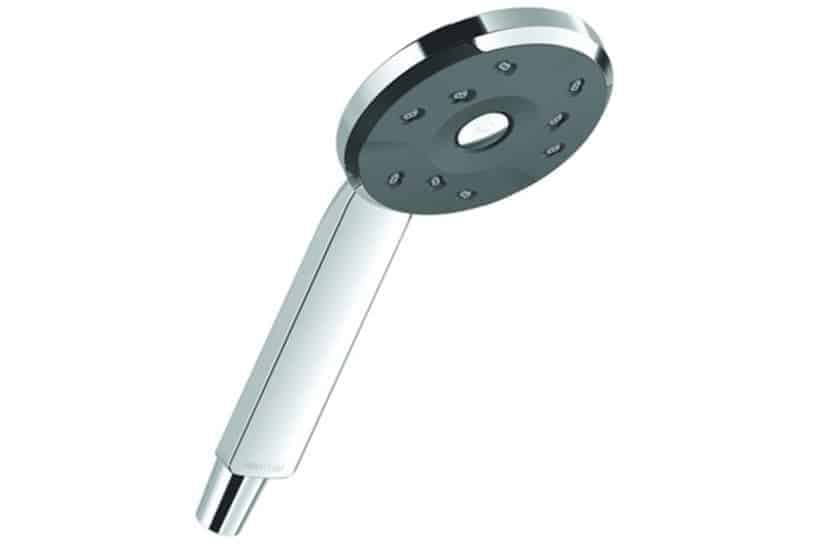 Conservation Labs
Conservation Labs developed the H2know with which you can easily measure water consumption remotely and see where savings can be made .