Washable sanitary towels – by and for everyone
Our project in Ethiopië is running for a couple of years now. A nice detail of the WASH program that is being implemented there is the production and distribution of washable sanitary towels. This obvious product makes a big difference in the lives of women and girls.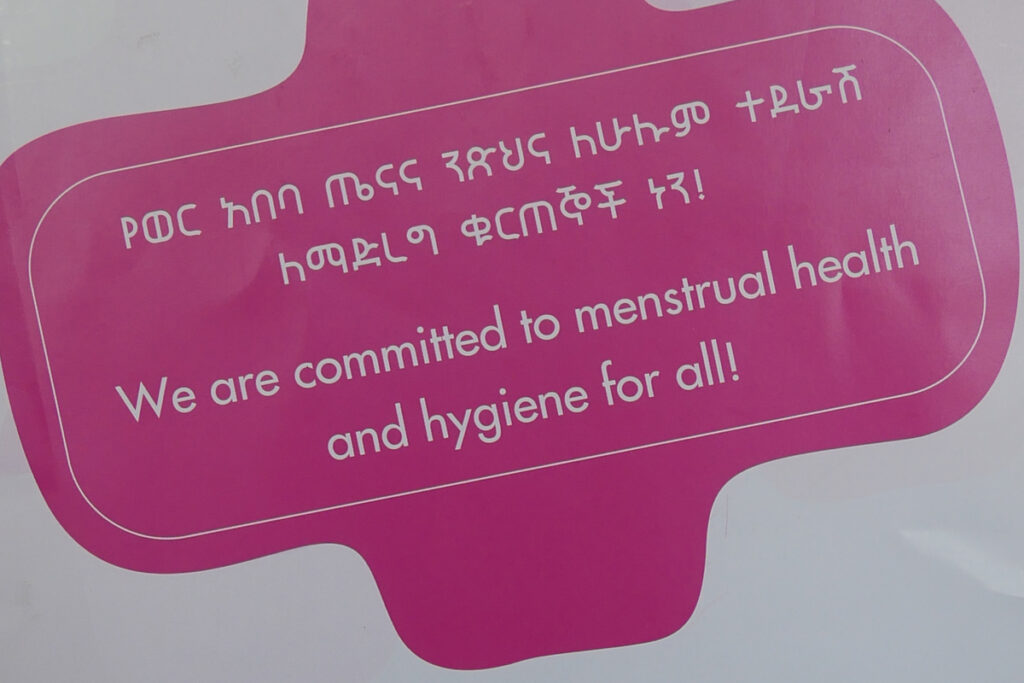 WASH & menstrual health
This project is a follow-up on a previous project in Ethiopia and invests in the renovation of existing WASH facilities, the construction of water points, and safe toilets in and around schools. At the same time, education and training about good menstrual hygiene is an important part. Lack of knowledge about how to deal with menstruation in a healthy way hinders women and girls in their development and daily life. Not only does limited access to clean running water cause discomfort and health problems – young girls regularly miss many hours of school during their periods because they cannot or dare not leave the house due to a lack of sanitary towels and other hygiene products.
A solution to this is to make and offer washable sanitary towels. Our investment in the project has ensured that sewing machines and materials are available in schools to make your own washable sanitary towels, which are then distributed to and used by school-age girls in this region.
washable sanitary towels
Not everyone has a drugstore or supermarket with a full shelf of hygiene products nearby, so washable sanitary towels are a pleasant alternative. It can be washed and reused again and again, so it can be left on the shelf at home for when it is needed. Washable sanitary towels are slightly more expensive than the disposable variety, but because they can be reused, the original investment will ultimately be recouped.
The sanitary towels are made from natural materials, such as cotton, bamboo or hemp. This reduces the risk of irritation, feels more pleasant, breathes more and is more hygienic. Natural materials are more effective against bacteria than the synthetic fibers of most disposable sanitary towels, and the chance of unpleasant odors is therefore less. Washable sanitary towels have also been gaining popularity in recent years in countries such as the Netherlands as environmentally friendly and alternative, and are therefore no longer so special for many.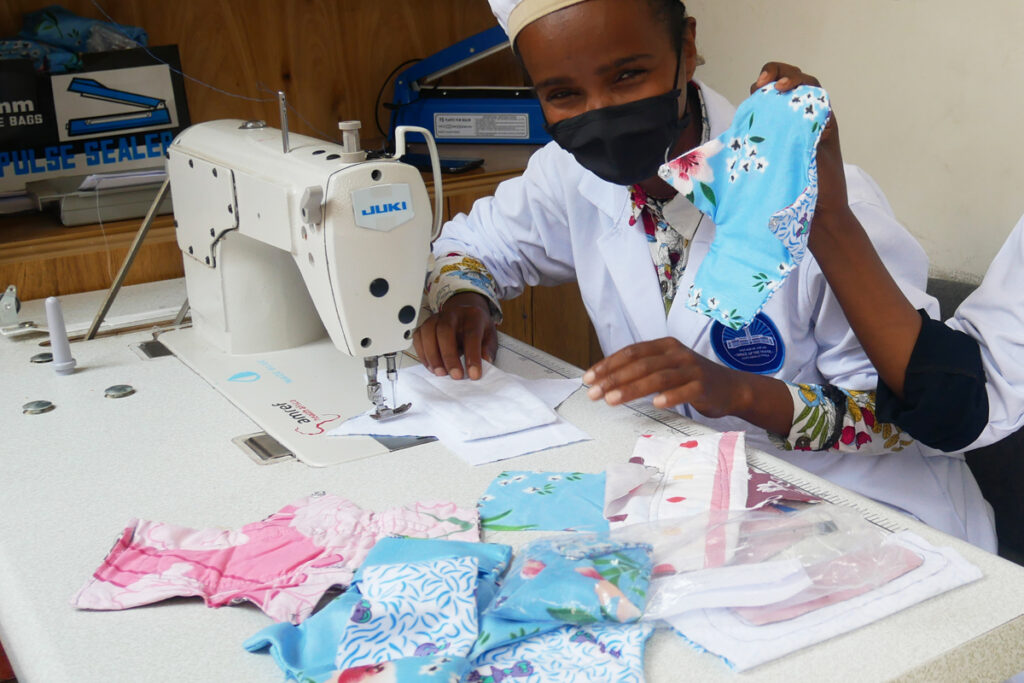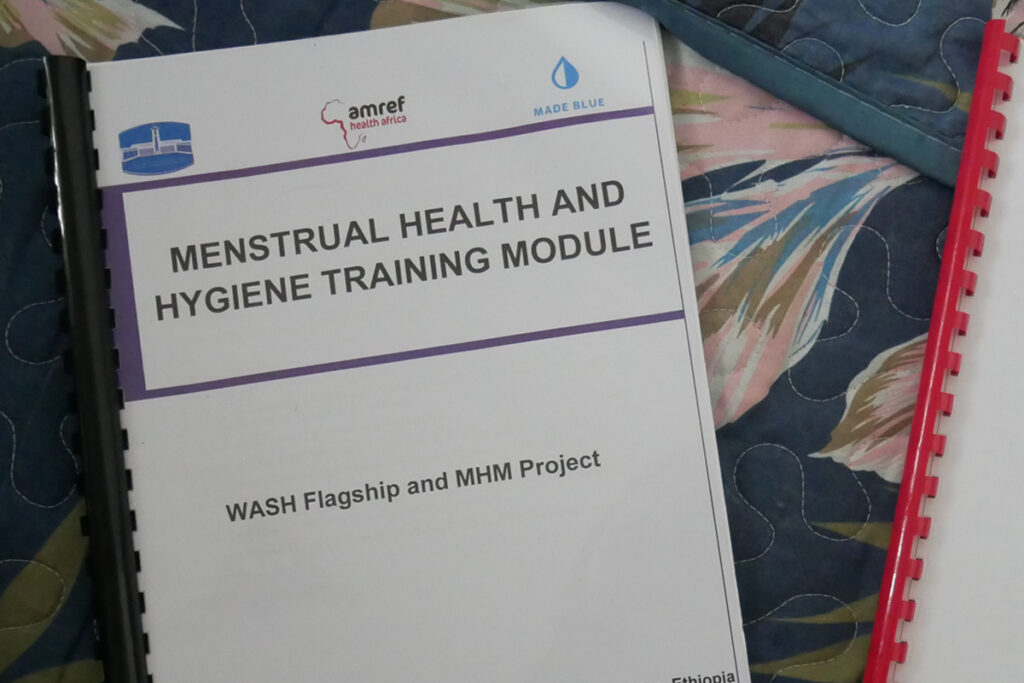 Lobby & training
During a visit by our partner Amref to the project in May 2023, we showed how the production of washable sanitary towels worked there. An entire building has been made available with not only a room for making sanitary towels, but also a toilet, shower and rest room. The latter is a place for girls to recover when they suffer from menstruation, meaning they only have to miss a few hours of school instead of a whole day. Lessons are given in the classroom on how to make and wash reusable sanitary towels. And the best news of all: through a successful lobby, VAT has been removed from sanitary towels, making them more affordable for everyone.
SDG6 – more than water alone
Our mission contributes to:Sustainble Development Goal 6: Clean Water and Sanitation for All. This story is a good example of how much more is involved than just laying water pipes. Women and girls are extra vulnerable due to a lack of clean water. Not only because they often have the task of collecting clean water, which can be a dangerous and time-consuming undertaking, which limits their personal development. But also because they need access to clean water for a healthy and pleasant course of their monthly cycle. There is still a taboo on talking about menstruation, which makes young girls too ashamed to want to go to school, and women sometimes have to miss work. With clean toilets, reusable sanitary towels and good information, periods become less of a blockage. That is a good development for everyone.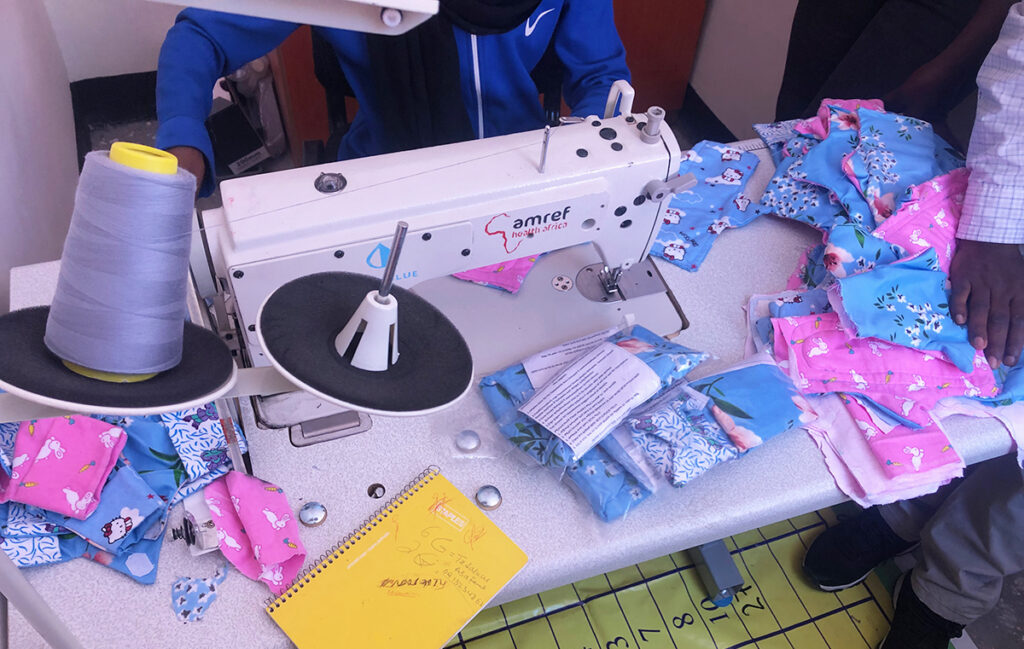 WATER AND SANITATION AT AND AROUND SCHOOLS
Together with Amref and Castalie, we will provide people with clean drinking water, safe sanitation and good hygiene. We do this in schools, but also in the communities around those schools, for example by building kiosks on the outside of those schools, including small shops.
In total we invest at least 1 million euros. With this we reach 35,100 people, but specifically also 15,300 girls at 20 schools. By building safe toilets, sinks and changing rooms, we hope that the absentee rate of girls at school will decrease by 50% in the next 2.5 years.
---
You might want to read these updates too:
The impact of a home water connection
In Ethiopia we are working hard on water in and around schools. We also provide nearby households with a water connection at home. This is also the case with Misra Taha from Bishoftu, mother of six…
Read more
Update Wash at schools: what has already been achieved?
In Ethiopia we are working hard on water in and around schools. We aim to provide 20 schools with water and sanitation. How far are we after two years with more than a year to go?
Read more