Two Rotterdam restaurants provide 55 million litres of water
In 2017, they were one of the first restaurants to opt for locally bottled water with a contribution to clean drinking water in developing countries: Héroine and De Matroos en Het Meisje. Together, five years later, they already provide 55 million litres of drinking water in countries such as Ethiopia and Bangladesh.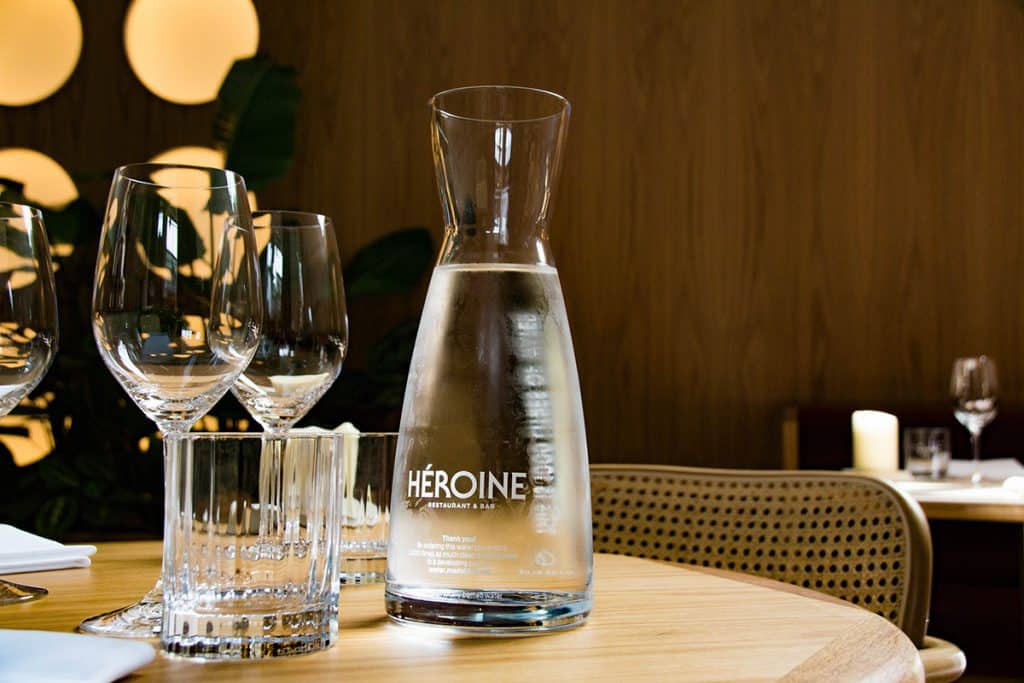 Locally bottled
Serving locally bottled water instead of spring water is still not commonplace in the hospitality industry. That is actually crazy when you look at the advantages: no transport, much less storage, no full glass container and cheaper purchasing.
In 2017, Eva Eekman and her partner Michael Schook were one of the first to put Made Blue water on the table in their two restaurants: Héroine en De Matroos en Het Meisje.
Made Blue water is filtered, cooled, still or sparkling tap water from a water cooler connected to the water mains. Each bottle provides 1000 times the content of clean drinking water in developing countries.
The message on the bottle
With Made Blue, every bottle on the table provides 1,000 times as much clean drinking water in developing countries. How does that work?
For every bottle or carafe of water served, the restaurant donates a small amount that enables the Made blue Foundation to realize, for example, 700 litres of clean drinking water (with a 700 ml bottle) in one of its water projects.
In addition to the donation, the restaurant pays for the water cooler and the use of glassware. All in all, the total purchasing costs are often lower than with spring water, but then the water is a lot more sustainable and certainly just as tasty.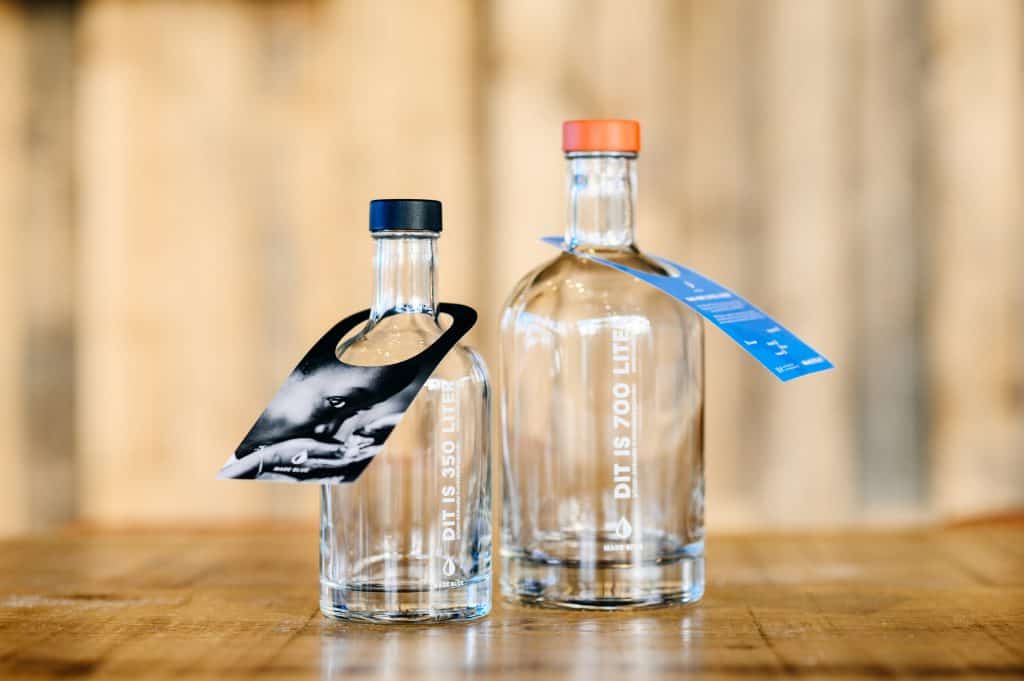 Our guests really appreciate the story behind the water and are surprised by the good quality of locally bottled and filtered tap water.
Eva Eekman, co-owner Restaurant Héroine and De Matroos en Het Meisje.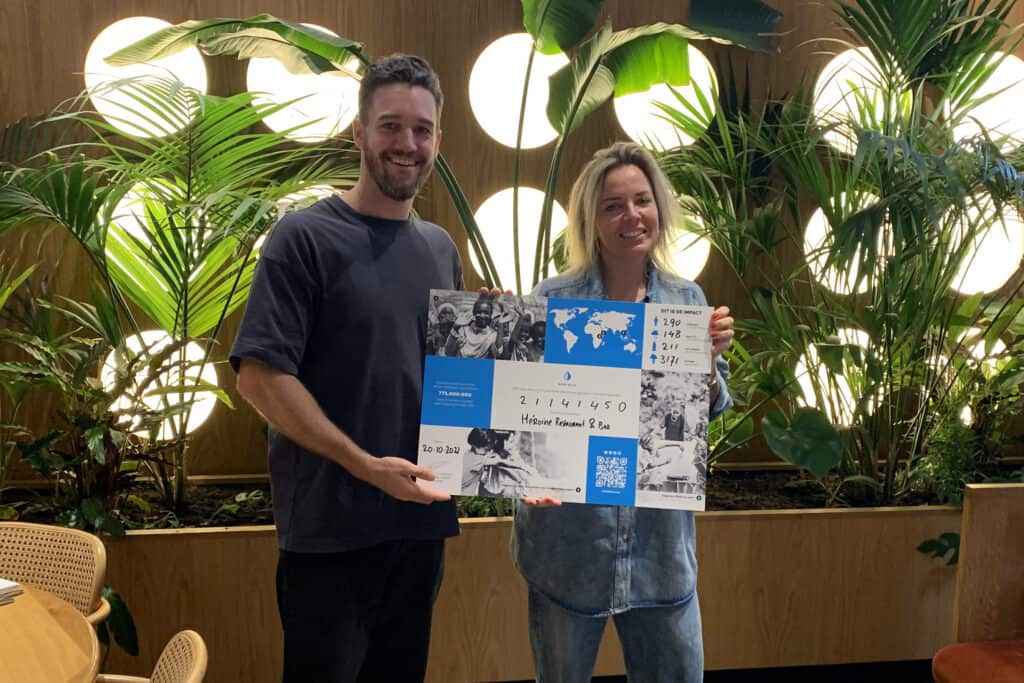 Héroine
Héroine is a contemporary restaurant hidden in the southern wing of non-Industrial Building, a historic monument in the heart of Rotterdam. The large open space is the place where simplicity and luxury come together.
You are invited to a chef's menu of 5 or 7 courses with matching wines and dishes inspired by cuisine from all over the world.
De Matroos en Het Meisje
The other restaurant of the enterprising duo has a completely different concept. In a setting of Delft blue and tea towel-like tablecloths, you eat what the pot is about and that is always something different.
On the menu here is: Table water: unlimited chilled and filtered still or sparkling tap water, of which 0.50 cents goes to the Made Blue Foundation. In addition, homemade lemonades, flat or sparkling, are also offered.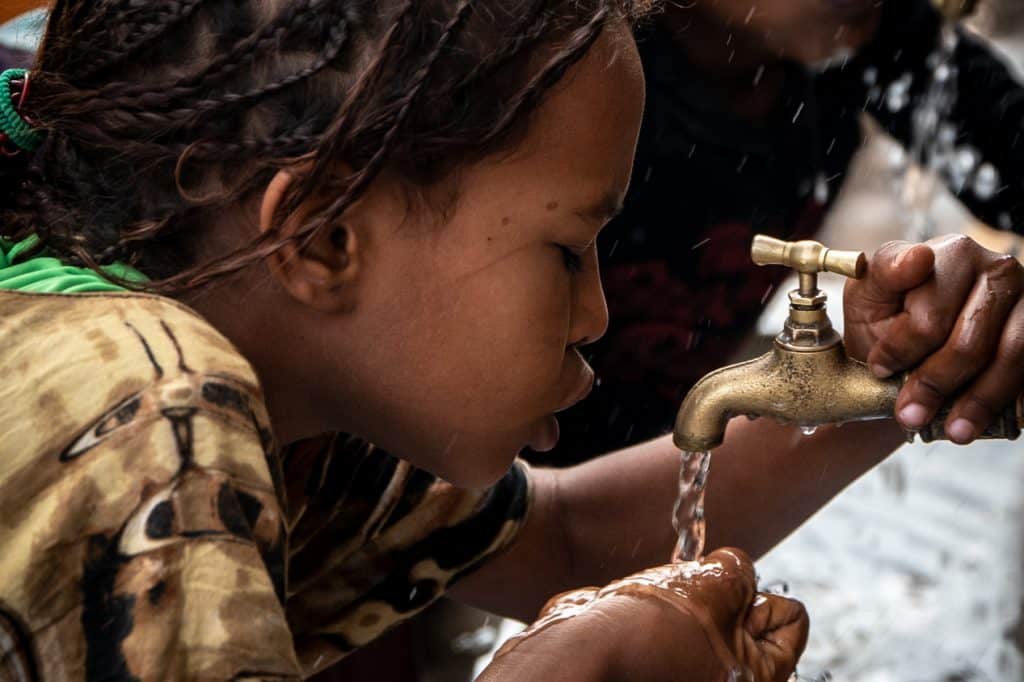 Impact
In the meantime, 'the counter' has already reached more than 25 million liters of drinking water realized on behalf of the three locations on the beach of Kijkduin. Not only does that sound like a lot, it is. 25 million liters gives more than 325 people access to clean water and hygiene, today and for the next 10 years ahead: that counts!
Especially when you consider what it means even more: not having to walk miles every day in search of water and therefore be able to go to school, work or take care of a family. It also avoids the need to boil contaminated surface water prior to consumption and thus much CO2- emissions. Moreover, in slums, access to drinking water has a direct effect on plastic waste.
Eva: "It is often difficult to see how much impact you make when you transfer money to a good cause. At Made Blue, the impact is very tangible."
The best water for you
At Made Blue, we call our water solutions the best water for the world.
They can also be the best water for you and your guests. We always have a suitable solution and the most beautiful glassware! Is that the best water for you?
---
May be you want to reads these articles too: