Update Wash at schools: girls back to school
UPDATE WASH AT SCHOOLS: Girls back to school
In Ethiopia we are working hard on water in and around schools. In this update you can read what we have already done. This is especially important for girls: water and hygiene at school ensures that they can go back to school.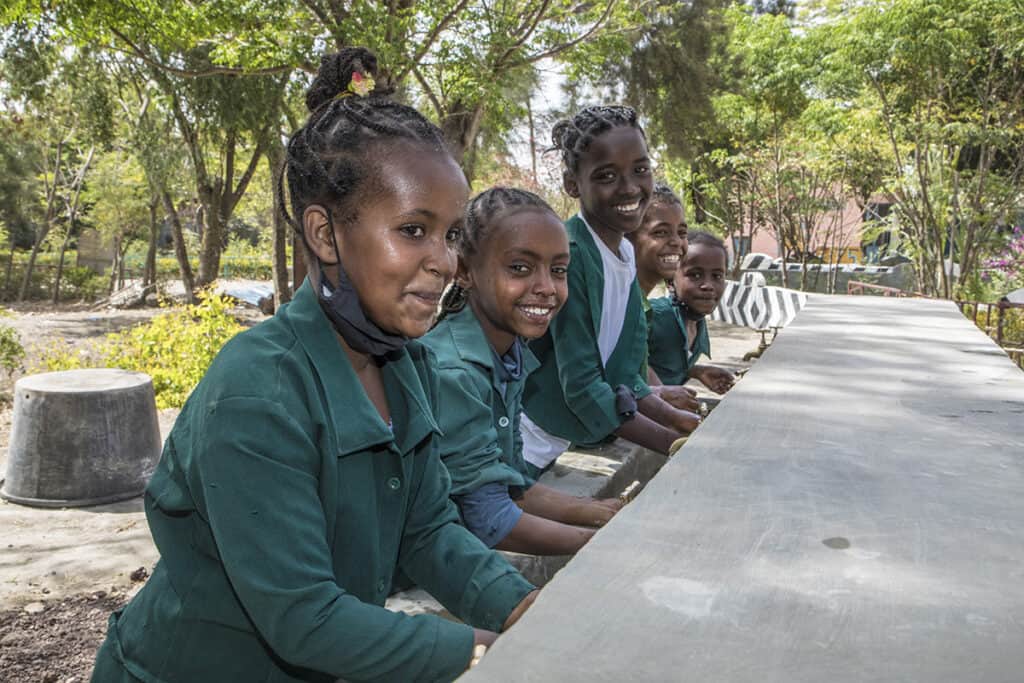 Schools as a foundation
In this project we focus on water in and around schools. With this we give a new generation perspective in life by making school a healthy and safe place. We also involve the direct environment of the schools.
Facilities have now been built at three schools in Addis Ababa. Also in Oromia, two schools are equipped with toilets and the water points have been repaired. Together we already reach 5000 girls and that is important because they often miss a week a month because they cannot move at school during their menstruation.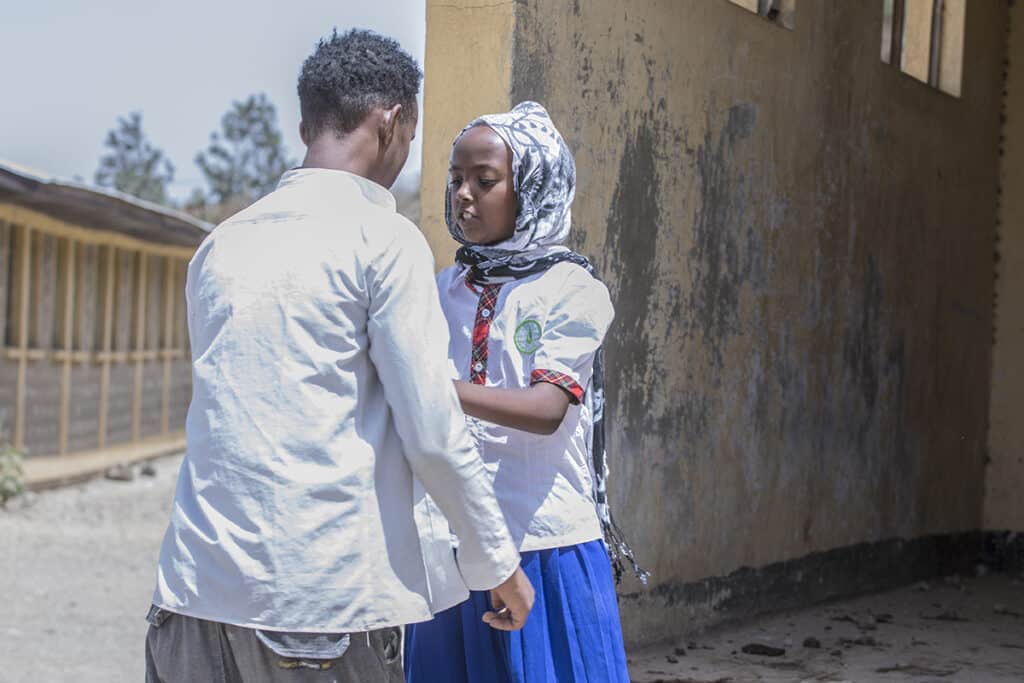 Private toilets
The schools will have separate toilets for boys and girls. With that, the girls finally get some privacy. Many girls did not feel safe in the communal toilets without doors, so they kept watch for each other. That is no longer necessary.
Girls often went to the bathroom together to stand guard for each other against nosy boys. That is no longer necessary.
Team Amref Ethiopia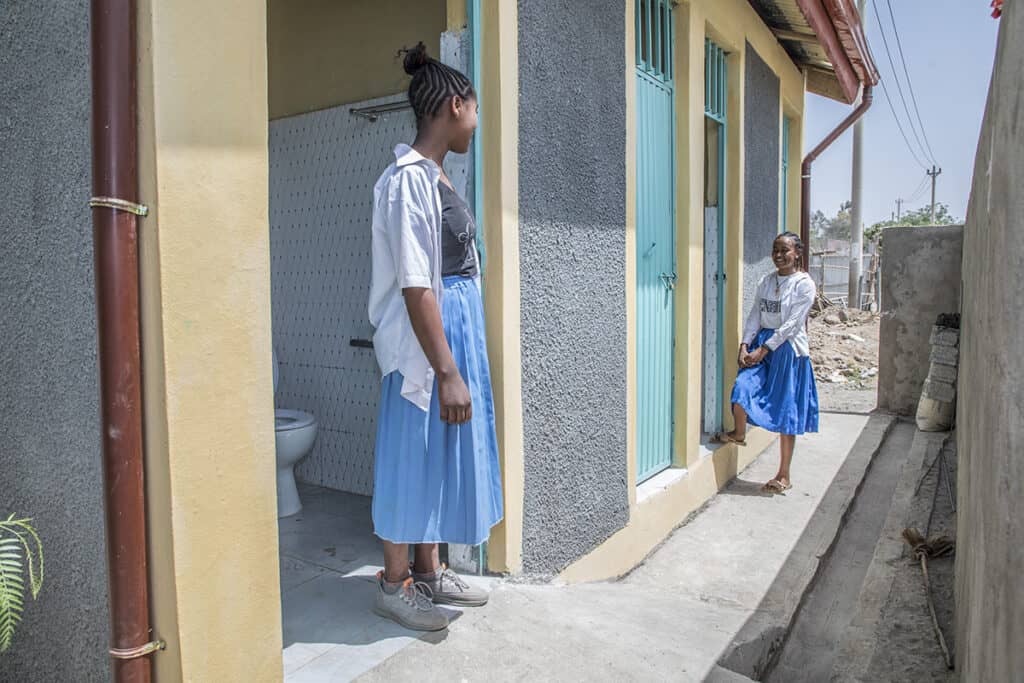 Changing rooms
Changing rooms are also being built at the toilet units for girls. The girls can change and shower there. The spaces are also used for making sanitary towels. They are equipped with running water and modern waste bins. Girls can also go to school during their menstrual period.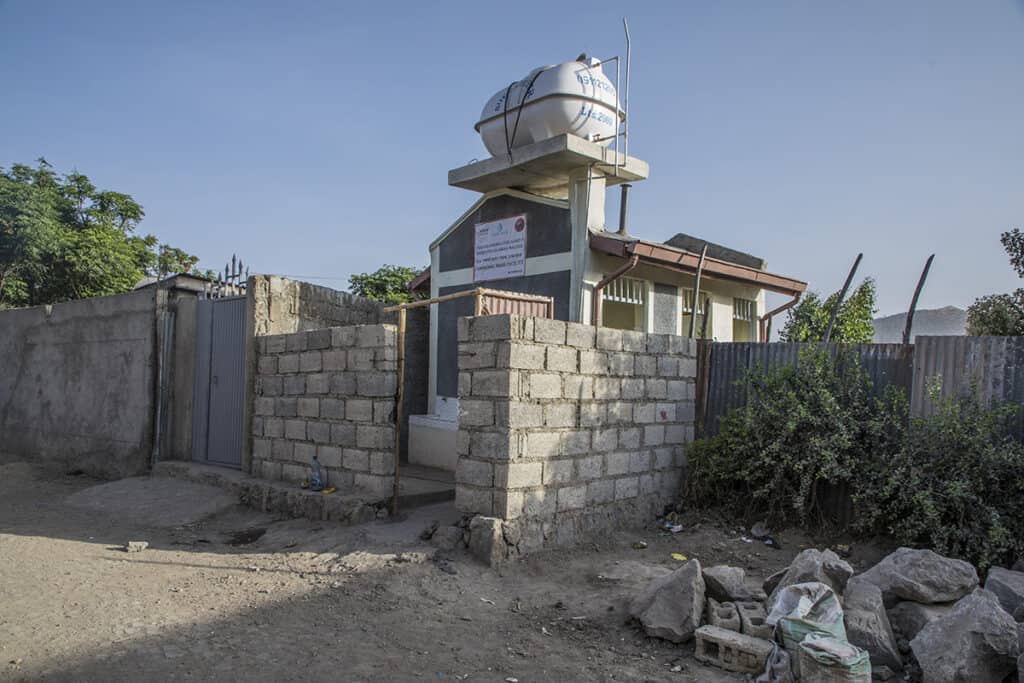 Kiosks
We also build toilet units and water kiosks for local residents at each school. In this way many families can also benefit from the improved facilities.
The residents pay a small fee for the use of the toilets and water. This saves money for cleaning and maintenance.
Ultimately, this will not only reach many students, but also more than 20,000 people who live near the schools.
Water and sanitatie at and around schools
Together with Amref and Castalie, we will provide people with clean drinking water, safe sanitation and good hygiene. We do this in schools, but also in the communities around those schools, for example by building kiosks on the outside of those schools, including small shops.
In total we invest at least 1 million euros. With this we reach 35,100 people, but specifically also 15,300 girls in 20 schools. By building safe toilets, washbasins and changing rooms, we hope that the absenteeism rate of girls from school will decrease by 50% in the next 2.5 years.
---
May be you want to read these updates too:
1 million for water at ánd around schools in Ethiopia
Over the coming three years we will invest no less than 1 million euros in clean drinking water in ánd around schools in Ethiopia.
Read more
Update Wash at schools: the first half of the year
Our project in Ethiopia started more than six months ago, so it's time for an interim report. In it we see how much is needed before construction can start. There are also quite a few challenges in…
Read more