Ethiopia update: a quick start
Ethiopia update:
a quick start
Since the project has started, various local WASH teams have been set up to roll out the project. A project team has been put together from Amref Ethiopia that focuses entirely on this project. A baseline measurement has been made, the results of which will be presented shortly.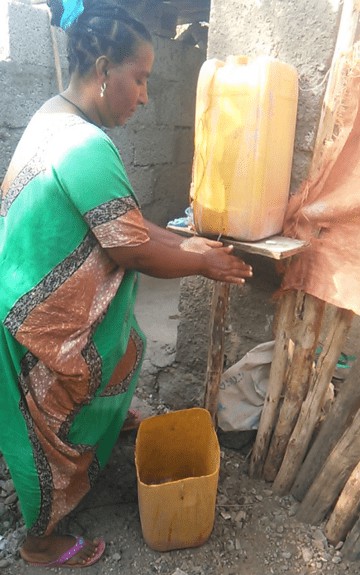 WASH
Six WASH (Water, Sanitation and Hygiene) teams have been formed, 3 in Afar (for the towns of Awash, Kewanee and Wore) and three in Oromiya (the towns of Adama, Wulinchity and Metihara). Also, 18 trainers have been trained who will function as health coordinators at their own school. They will train students and also ensure that the students transfer their knowledge to their own parents. This creates the oil slick that will ensure that people will use the hardware that will soon be available in the right way.
Adults should also learn to wash their hands after going to the toilet. Not everywhere is a tap nearby. That is why people make a small hole in a jerry can to still be able to wash their hands.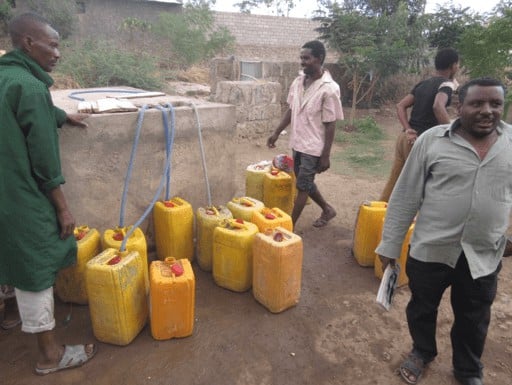 Sustainable
These gentlemen run a water point of sale and sell the water for € 0.12 to € 0.25 per jerry can. This is sustainable, because the income can be used to carry out future repairs to the water source.
The women are not only the main end users of water in the family, they now also have a major role in water committees by keeping track of the finances.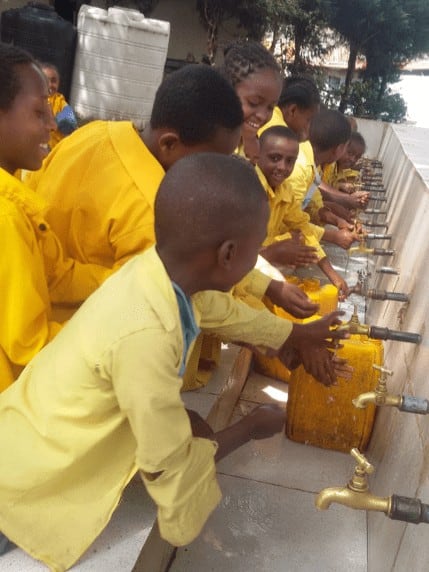 BEAUTIFUL EXAMPLES
In the Kechene slum of Addis Ababa, a water distribution point with a public shower has been realized (see image). A cold shower costs 5 Ethiopian birr (€0.20), a warm 15 birr (€0.60). The solution is combined with a coffee bar and a car wash, demonstrating business acumen, generating additional revenues that can cover future costs for maintenance, improvement and even expansion.
Work is now underway on this: the small company has started building an infrastructure for 'recycling' water. In addition, investments have been made in solar energy (for water heating) and ways of working more closely with local authorities are being explored.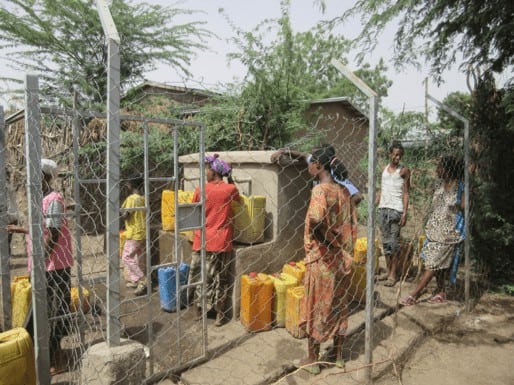 BUS STATION
Another great example is in Awash. Here Amref has built a water kiosk at a bus station. The site used to be a garbage dump. Everyone threw their garbage there. That is now almost impossible to imagine, among the trees and shrubs that provide the welcome shade. They are medicinal plants and shrubs, which are part of the project and will eventually be exploited.
The kiosk, consisting of water taps, separate toilets and showers, has become an important place for the entire community and is an important asset, especially for the girls and women in the area. The whole environment benefits from it and the showers seem to be a kind of talking bench. For example, the kiosk around the corner at the local bus station has a social function as well as a hygienic one.
The use of the showers and toilets costs money and the water committee is now building a comparable station at another location in Awash.
Making water everybody's business
Since 2016 was have been investing in the five-year health programme 'Making water everybody's business' executed by Amref Health Africa.
The goal is to reach more than 140,000 people in slums and poor neighborhoods in Ethiopia with access to water, sanitation and hygiene education. It concerns the areas of Addis Ababa, Afar and Oromia.
---
May be you want to read these updates too:
Ethiopia update: Completed succesfully
At the end of 2020, the project Making WASH everybody's business in Ethiopia was successfully completed. Here you can read everything about the results and the impact of the project.
Read more
The story of Gadisa Hurisa, 47 years old, from Adama, Ethiopia
Gadisa spent a lot of money and time fetching clean drinking water. Thanks to Made Blue, she can now save and put time into development.
Read more