A personal story of Iniye from Bishoftu
A personal story of Iniye from Bishoftu
Part of our WASH project in and around schools are public facilities where people can get water, but also go to the toilet or take a shower. Iniye (30) talks about the impact that has on the life of her family.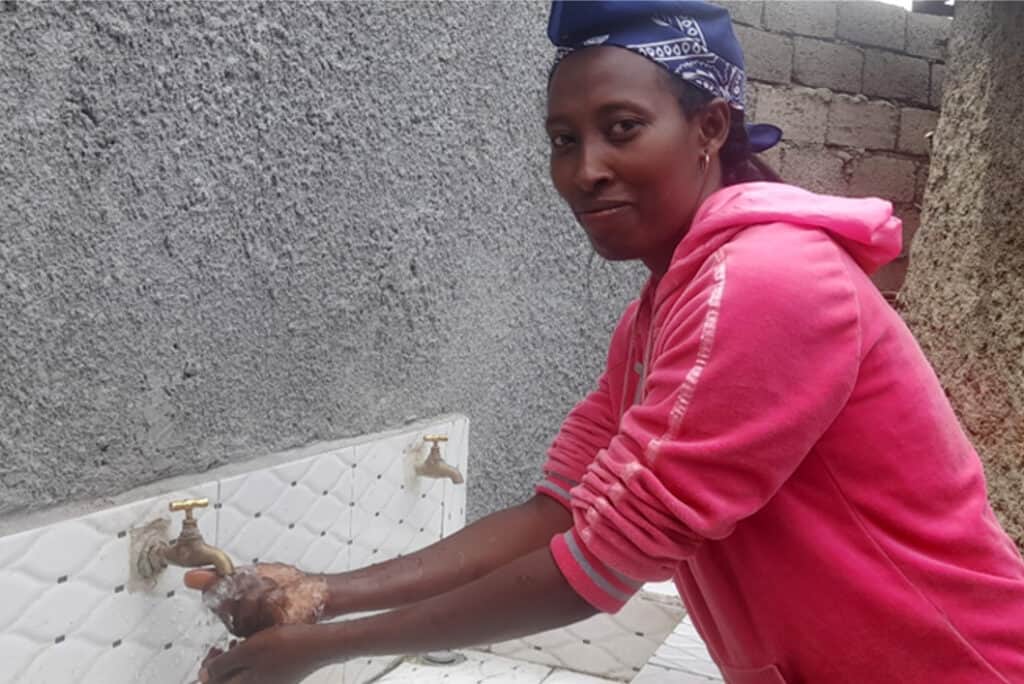 Iniye (30) from Bishoftu
Iniye Mekonnin, 30, is the mother of two children (an 11-year-old boy and a 5-year-old girl). She lives with her husband and children in a house with two small rooms in a slum of the city of Bishoftu. One of her daily activities is selling locally made drinks.
Until recently, she and her family and many neighboring households had to use an old toilet that was about to collapse. Because there was no fence around it, it was also used by passers-by and waste was dumped. In heavy rain, the toilet regularly overflowed. Thanks to our project, she can now use modern toilets that are well managed.
Almost drowned
Iniye remembers the very sad incident where she almost lost her son thanks to the old toilet. As usual, she went about her daily activities and searched for her 11-month-old son who was briefly out of the picture. She found that her child fell into the well and screamed for help.
"I pulled him out of the well in which he was submerged up to his shoulder and almost sank," she recalls. Since then, she has not dared to let her children use that toilet again.
The toilet also caused us health problems. We sometimes literally took the worms home with us under our feet. We often had no choice but to ask if we could use one of the neighbors' toilets.
Iniye Mekonnin from Bishoftu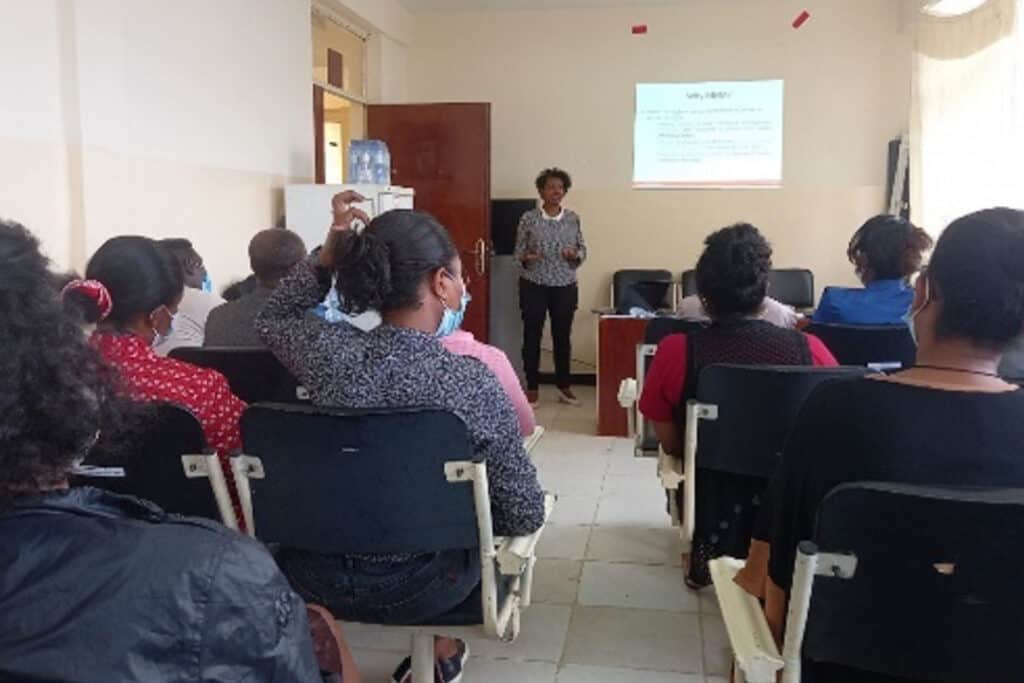 Public facilities
Thanks to the project we are carrying out together with Amref and Castalie in and around schools in Ethiopia, Iniye's family and 14 households (57 people) have access to clean toilet and shower rooms next to their home that they can use as they please.
Iniye Mekonnin chairs the WASH committee established to manage the common WASH facility. The committee decides how to manage the facility and the members take turns cleaning the toilet and grounds.
"Amref has provided me with many things. I received training on WASH, WASH management, financial management, communicable disease causation, asset management and hygiene behavior changes."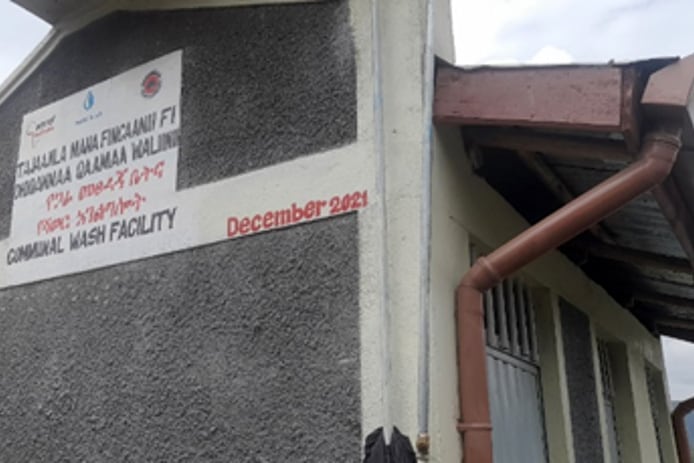 Income for maintenance
The committee itself must save money for maintenance and repairs to the facility. Therefore, non-members pay 10 birr per person at a time to use the facility. The members themselves pay 5 birr to shower, but can go to the toilet for free.
"Whether you believe it or not, my 11-year-old boy used to use a potty in the house until the WASH facility began. My kids are happy now. Previously, they weren't comfortable using the potty in the house, but now they can use the toilets outside the house with complete freedom."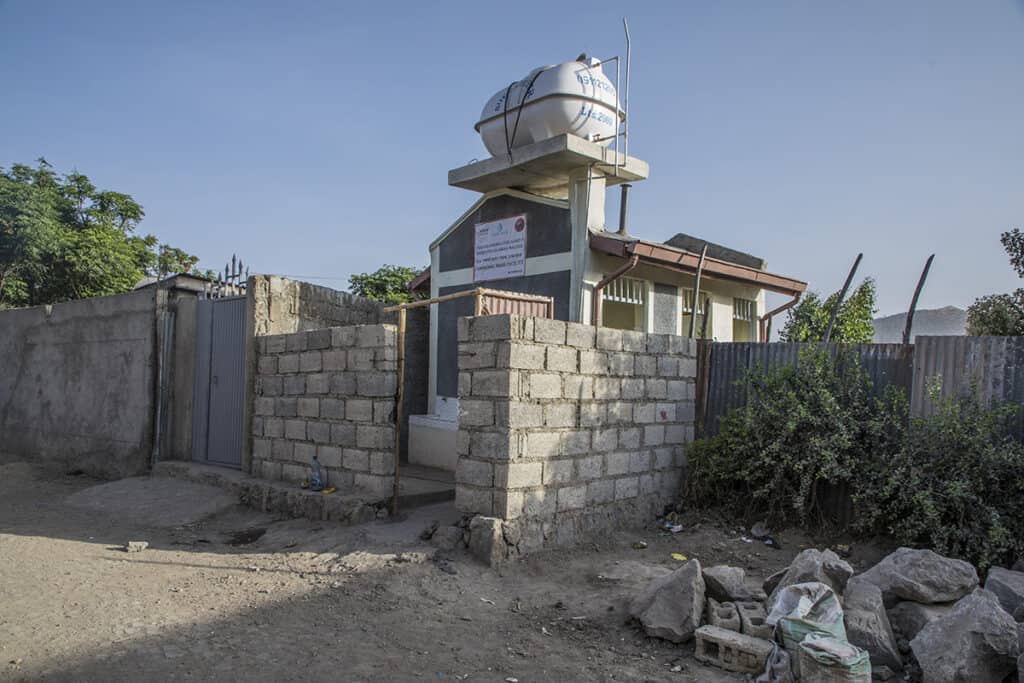 Saving for extensions
In addition to collecting the costs from the users, each household contributes 15 birr per month to the joint bank account. The balance has already risen to 5,500 birr.
The plan is to buy a Bajaj. This is a three-wheeled vehicle that is widely used as a means of transport in the area. With this, the committee wants to offer a laundry service.
In addition, they aim to open a mini-shop with cleaning products and cosmetics such as conditioner, shampoo and soap. Iniye adds: "I also want to sell chips, coffee and tea near the WASH facility, in addition to chairing the committee and taking care of the toilet."
Water and sanitatie at and around schools
Together with Amref and Castalie, we will provide people with clean drinking water, safe sanitation and good hygiene. We do this in schools, but also in the communities around those schools, for example by building kiosks on the outside of those schools, including small shops.
In total we invest at least 1 million euros. With this we reach 35,100 people, but specifically also 15,300 girls in 20 schools. By building safe toilets, washbasins and changing rooms, we hope that the absenteeism rate of girls from school will decrease by 50% in the next 2.5 years.
---
May be you want to read these updates too: