Vietnam update: responsibilities
Vietnam update:
responsibilities
In this project period, in Vietnam paid a lot of attention to informing the community and local (health) volunteers. In addition, important steps have been taken in the development of the water system by formalizing responsibilities and actively involving all stakeholders. Despite a small delay because things took longer than planned, it is expected that the actual construction can start at any moment.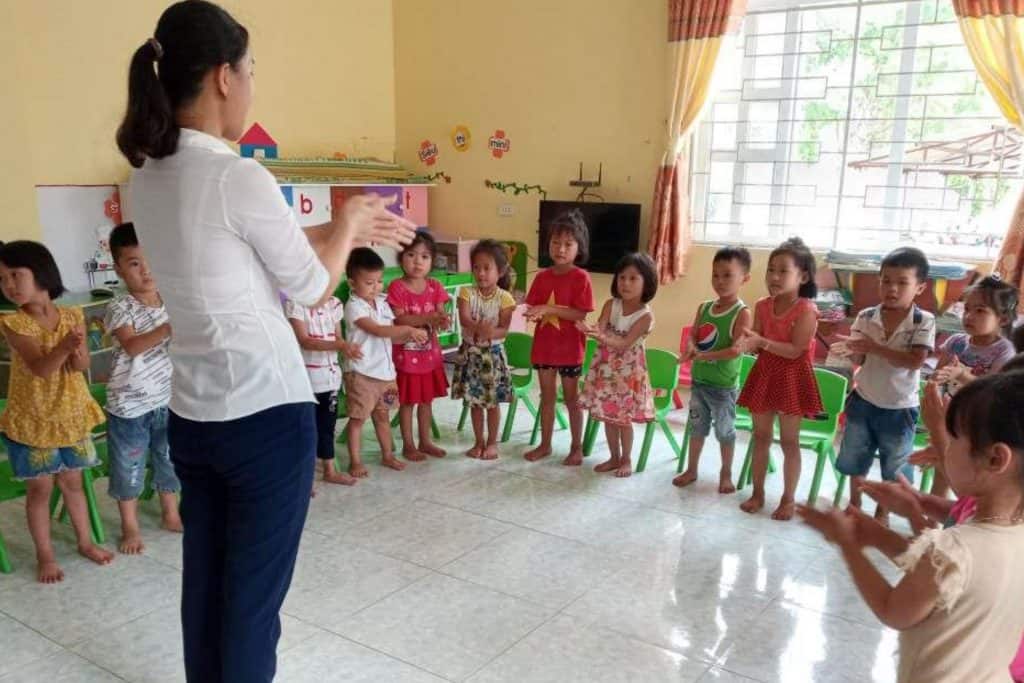 Education
All 22 teachers of the playgroup in Dien Quang have been informed about personal hygiene and the importance of washing hands after going to the toilet. They have been trained for a day. They use the knowledge they have acquired in their work. All 336 children (174 boys and 162 girls) also benefit from this.
Local volunteers
Local volunteers play an important role in the community in Vietnam. A total of 22 local volunteers, half of them women, attended special training. In this training they learned about health topics such as the importance of clean drinking water, good hygiene and preservation of the environment. They also gained additional knowledge and skills about behavioral change and different ways of conveying information to others.
After the training, the volunteers organized 17 awareness meetings in the community. A total of 458 inhabitants (69 men and 389 women) from the 6 villages therefore have more knowledge about water, hygiene and nature conservation.
In addition to the group meetings, the volunteers visited the houses to personally encourage people to put hygiene advice into practice and to apply it within their own families. At least 145 households have been visited in this way in recent months.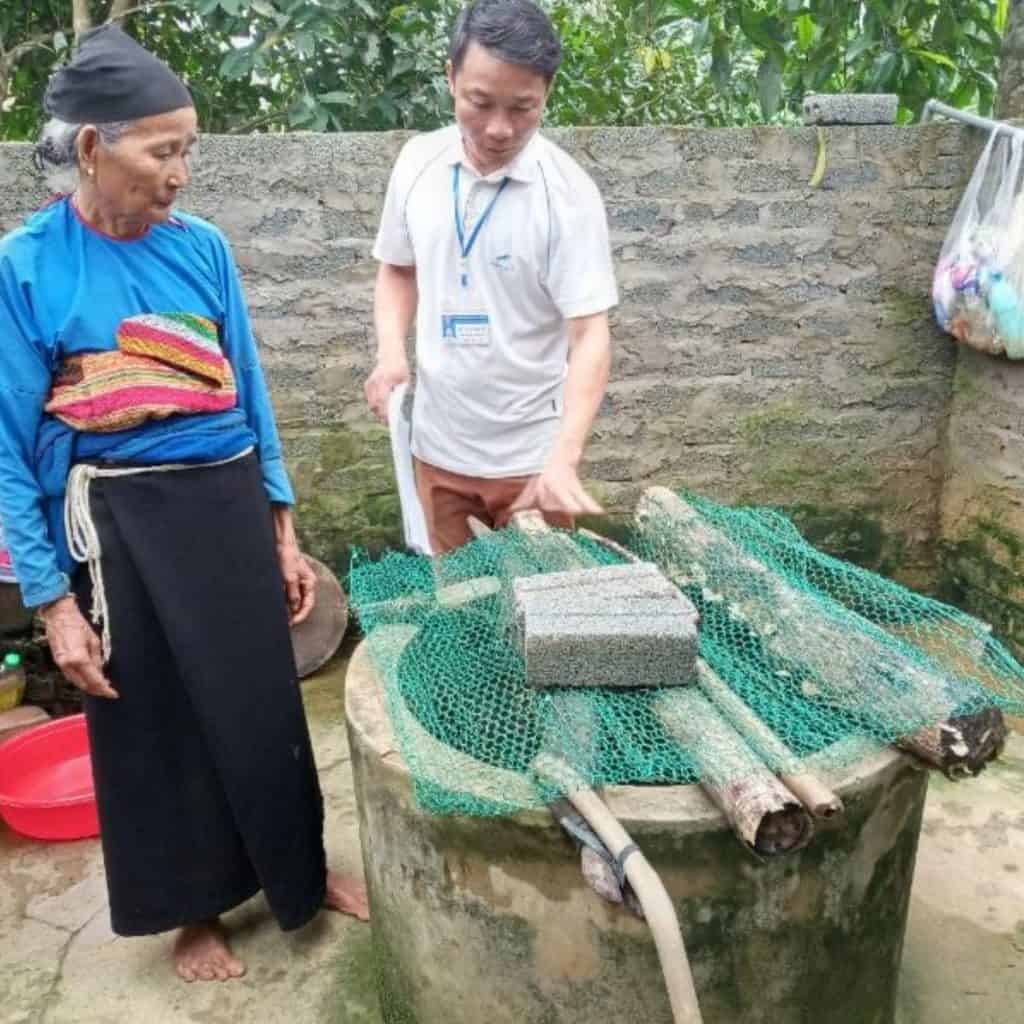 A personal story
Ms. Ha Thi Tinh, a volunteer from one of the villages, talks about the effect health education has on the community:
"The people in the community were very enthusiastic about the health education! For example, one of the participants indicated that until today she got the water she uses for drinking and cooking from a well nearby. She assumed that this water was clean.
By attending the education, she became aware of the risks and realized that the water she used is polluted and can cause diarrhea. To prevent her children from getting sick, she will certainly consult her husband to buy treated water. "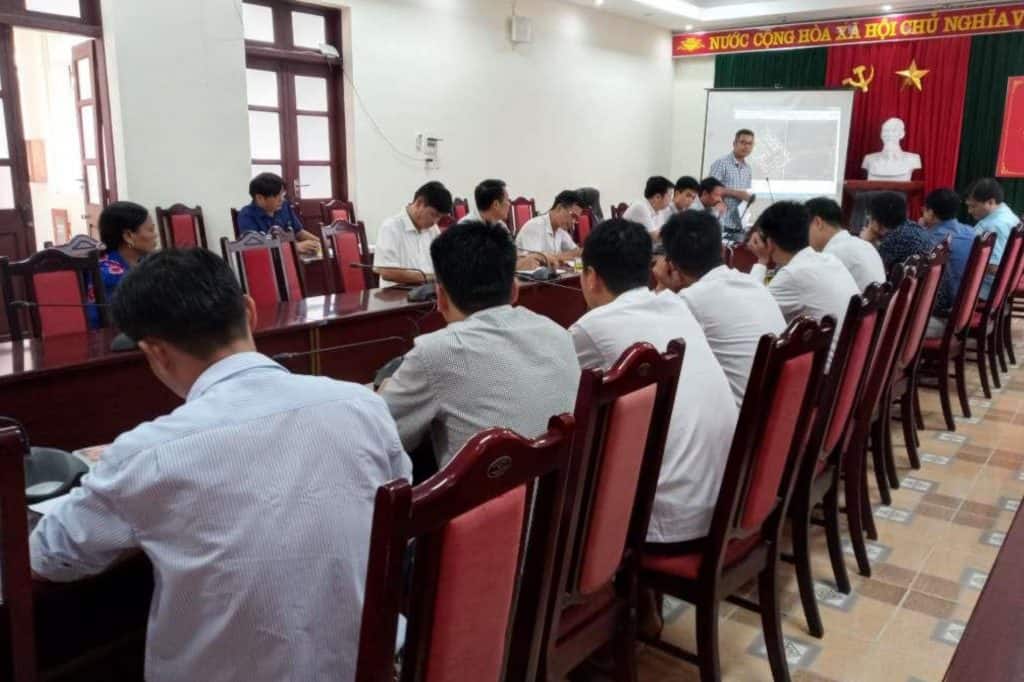 Challenges
In July 2020, there was a second wave of Corona infections in Vietnam. Fortunately, no people have been infected with the virus in the project area and Ba Thuoc district. At the time of writing, 1 case was known in the province (Thanh Hoa). Surrounding provinces also reported various infections.
The preparations for the design document and budget took more time than initially planned. The Ba Thuoc program team does everything it can and actively cooperates with all involved to get all work done on time despite the small delay! The construction of the water system is expected to start on October 1.
DEVELOPMENT WATER SYSTEM
The engineers of Limited Company have submitted the construction plan after a period of thorough (topographic / geological) preliminary investigation. Ba Thuoc Area Program then organized large-scale meetings with the district board in which various stakeholders could think along and share their view of the water system.
In addition, a management team has been put together by the local government. This team has a lot of technical expertise and will support the existing Ba Thuoc program team in order to keep a close eye on the progress of the construction work and to arrive at a good and high-quality water system.
The Dien Quang community council has stated in a formal letter that it will make land available for the central water pump system.
Clean drinking water for minorities
In October 2019 we started this project together with World Vision Vietnam. It focuses on the municipality of Dien Quang in the district of Ba Thuoc. This municipality is mainly inhabited by the Muong – a minority group in Vietnam – who are not seen as a priority by the government.
The project runs from October 2019 to March 2021 and aims to provide 3,572 people with clean drinking water and thereby improve their health and quality of life.
---
May be you want to read these updates too:
Vietnam: Virtual visit as completion (VIDEO)
Our project in Vietnam was recently completed but unfortunately we were unable to visit it ourselves. Instead, we were invited for a virtual visit.
Read more
Vietnam update: On TV and extension
In Vietnam we recently celebrated the official opening of the water supply, which to our surprise even made national TV. Another surprise was that there was budget left and that is why we are going…
Read more