Ethiopia: Photos impact journey
Ethiopia:
Photos impact journey
Last month we visited one of our water projects in Ethiopia together with 9 ambassadors. Here we showed our ambassadors where and how their donations are spent. Here you can read the daily reports and see the most beautiful photos.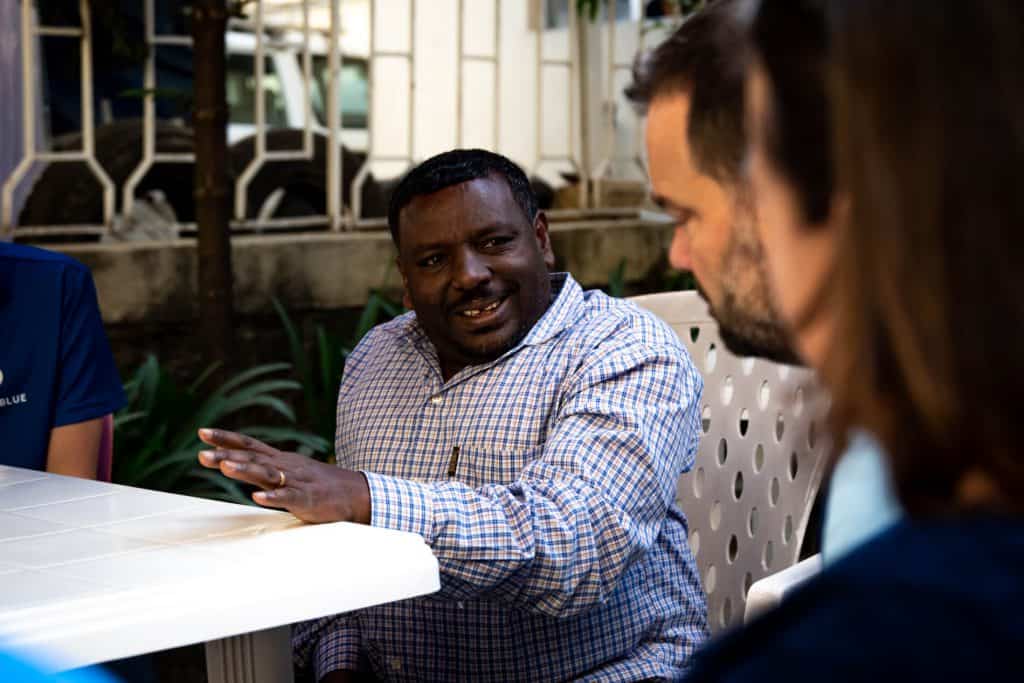 Day 1
After an intensive journey – and a skipped night – we boarded the bus directly from the airport to the  head office of Amref Flying Doctors in Addis Ababa. There we were warmly welcomed by, among others, Misrak Makonnen – the CEO of Amref Ethiopia – who told us more about the work of Amref Flying Doctors in Africa and how the water projects are set up and realised. Their goal: to provide all households in Ethiopia with clean drinking water and good sanitation before 2035.
Then Gizachew – the project leader of the water project to be visited by us – took him into the slums of  Kechene. Kechene is the largest slum in Addis Ababa. There we first became acquainted with the Solid Waste Collectors: is a women-run waste collection service in the slums of Addis Ababa. They currently provide no fewer than 500 households with their services! But that's still. but the beginning: they are currently saving for a second garbage truck to expand their services.
Then we went to see a WASH kiosk built by Amref within the project we support:  Making Water Everybody's Business. A WASH kiosk is a public space where one can wash, fetch water and toilet. This WASH kiosk is maintained by young people with disabilities, so that they too can participate in society.
Then we got back on the bus for a wonderful road trip from Addis Ababa to Awash. With that, the first day was a fact and we prepared ourselves for day 2: a day full of visits to water projects.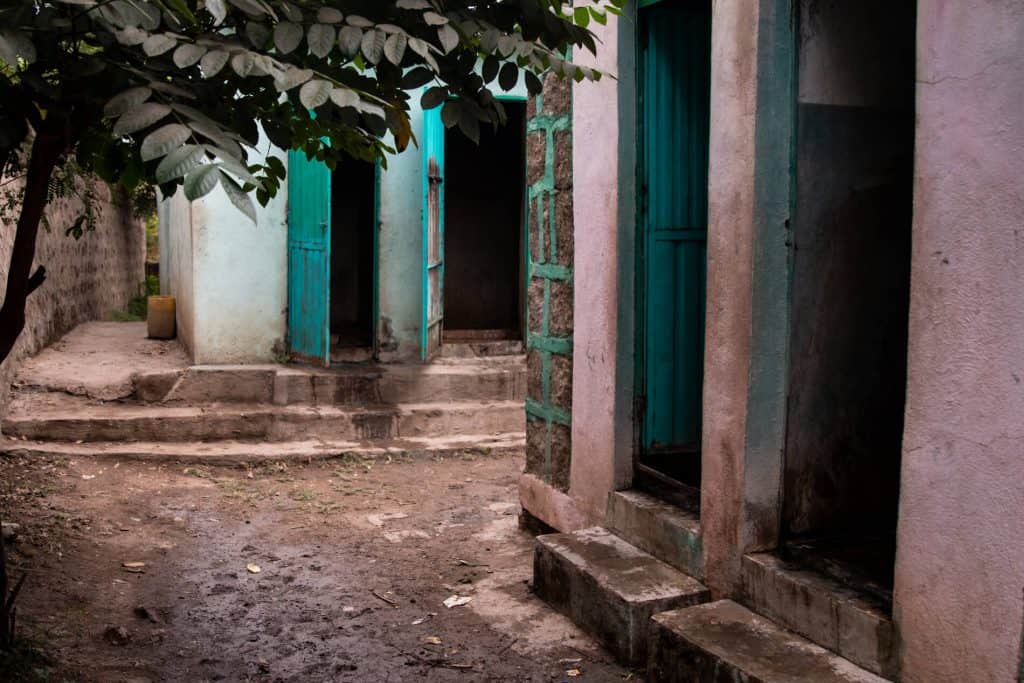 Day 2
The second day we visited several WASH kiosks in Adama, Metehara and Awash. We started in the slums of Awash, where we learned more about how these water kiosks are run.
For example, we were told that the local people can use the facilities in the kiosk for a small fee. This income is saved by a community manager for maintenance and for futuresome investments. In this way, a water project can continue independently in the long run and such a water kiosk will actually continue to exist.
After Awash we continued to Metehara. There we visited a WASH kiosk where people had saved so much that they were able to build a second kiosk independently. And they are still expanding their services! They are currently working on setting up a car wash. A good example local entrepreneurship so.
In Awash we also tasted real Ethiopian coffee – along the side of the road. This coffee was roasted and ground by hand. It was a pretty strong cup of coffee, but luckily everyone was ready for it!
After a short stop we continued our way to Adama for lunch and to visit the last WASH facilities. Here we were – in a very narrow street – overrun by children who wanted to be photographed. That also made a great impression on the group!
Finally on the program we visited a school, where special WASH facilities were set up for girls. This is important, because girls often have to stay at home when they have their period. These special WASH facilities for the girls ensure that the girls in this neighborhood no longer drop out of school as soon as they have their period, so that they also get a fairer chance in life.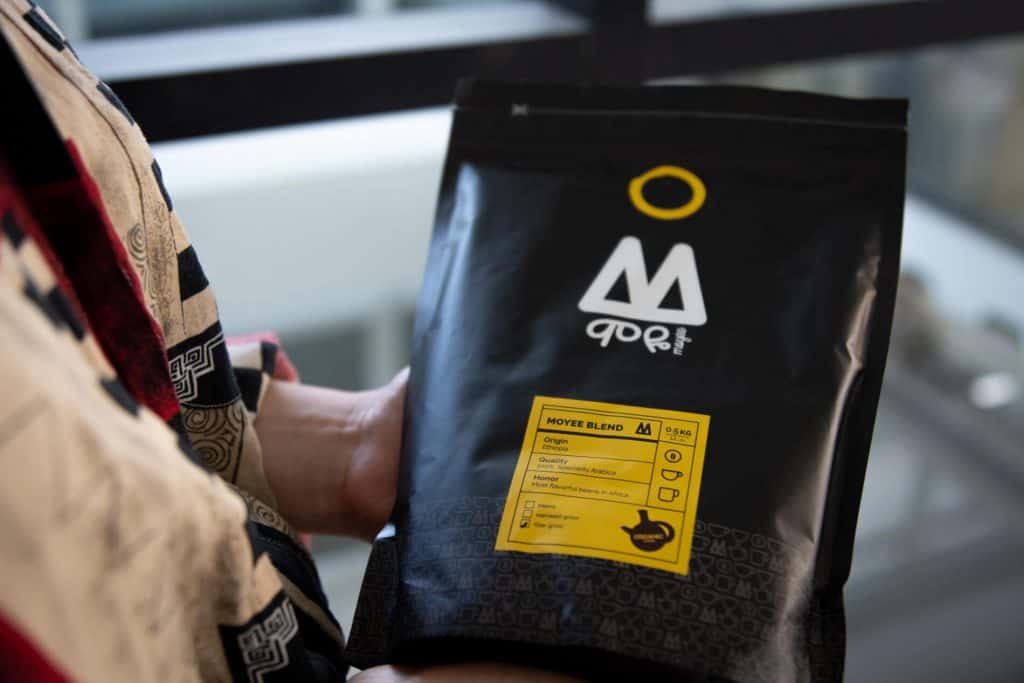 Day 3
The last day we started at  Moyee Coffee. Moyee is the world's first 'fairchain' coffee supplier. They have coined this term because they go beyond fair trade coffee. Where 'fair trade' is about a fair price for the coffee farmers, Moyee goes for the  best price.
Moyee does this by moving the entire coffee production process to the country of origin. As a result, the value of coffee – which arises the moment it is roasted – thus in the country itself – remains with the people who work so hard for it. So an honest cup of coffee! Unfortunately we were unable to visit the coffee roaster itself as they have recently moved. Nevertheless, it was very nice to hear their story and to be able to ask our questions.
After the visit to Moyee we traveled back to the center of Addis Ababa to stroll around the local market. In the evening we met Misrak Makonnen for one last time to discuss our impressions. Here we had another delicious traditional Ethiopian meal – called Injera – while traditional dance was performed on the stage. With that we concluded our trip and got on the plane back to the Netherlands.
Making water everybody's business
Since 2016 was have been investing in the five-year health programme 'Making water everybody's business' executed by Amref Health Africa.
The goal is to reach more than 140,000 people in slums and poor neighborhoods in Ethiopia with access to water, sanitation and hygiene education. It concerns the areas of Addis Ababa, Afar and Oromia.
---
May be you want to read these updates too:
Ethiopia update: Completed succesfully
At the end of 2020, the project Making WASH everybody's business in Ethiopia was successfully completed. Here you can read everything about the results and the impact of the project.
Read more
The story of Gadisa Hurisa, 47 years old, from Adama, Ethiopia
Gadisa spent a lot of money and time fetching clean drinking water. Thanks to Made Blue, she can now save and put time into development.
Read more