How much water should you drink per day?
How much water should you drink per day to stay healthy?
And can you drink too much water? Made Blue sorted it out for you.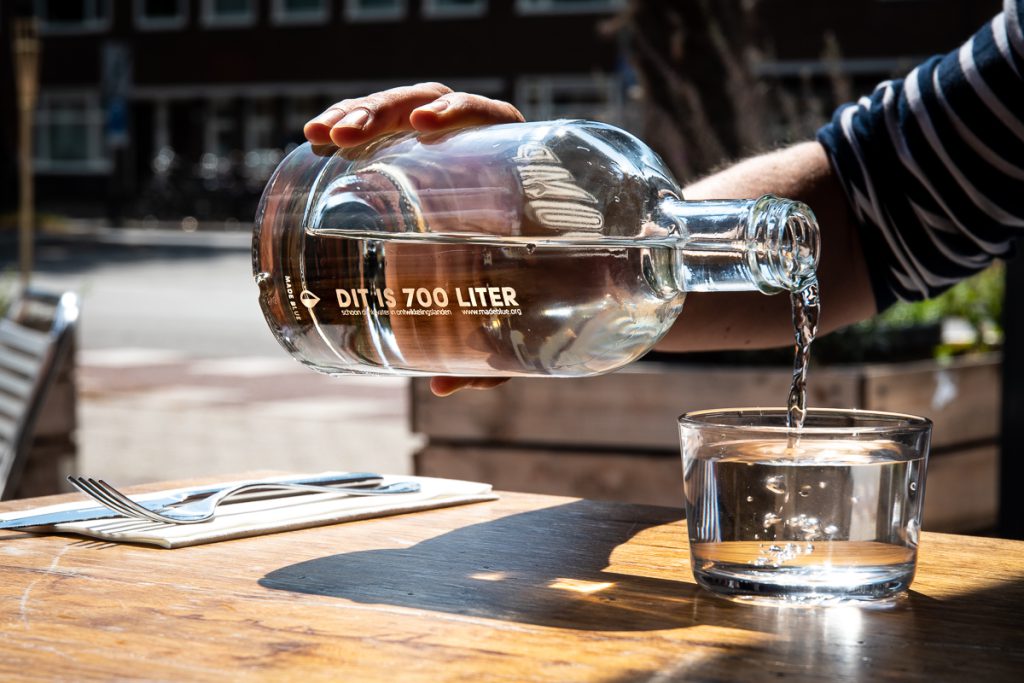 1.5 to 2 liters a day
The Voedingscentrum does not speak about water but about fluid because almost all drinks consist of more than 90% water: "An adult needs an average of 1.5 to 2 liters of fluid per day in the form of drinks. Exactly how much fluid you need depends on your age, temperature, exercise, what you eat and your state of health."
The Stomach, Liver and Bowel Foundation writes also 2 liters per day for: "This does not have to be just water. All drinks count. In addition to water, coffee and tea without sugar are in the Wheel of Five. Converted it is 8 glasses a day ."
Fluid is very important in the transport of nutrients and waste in the body. With this calculator you can see exactly what you would need per day.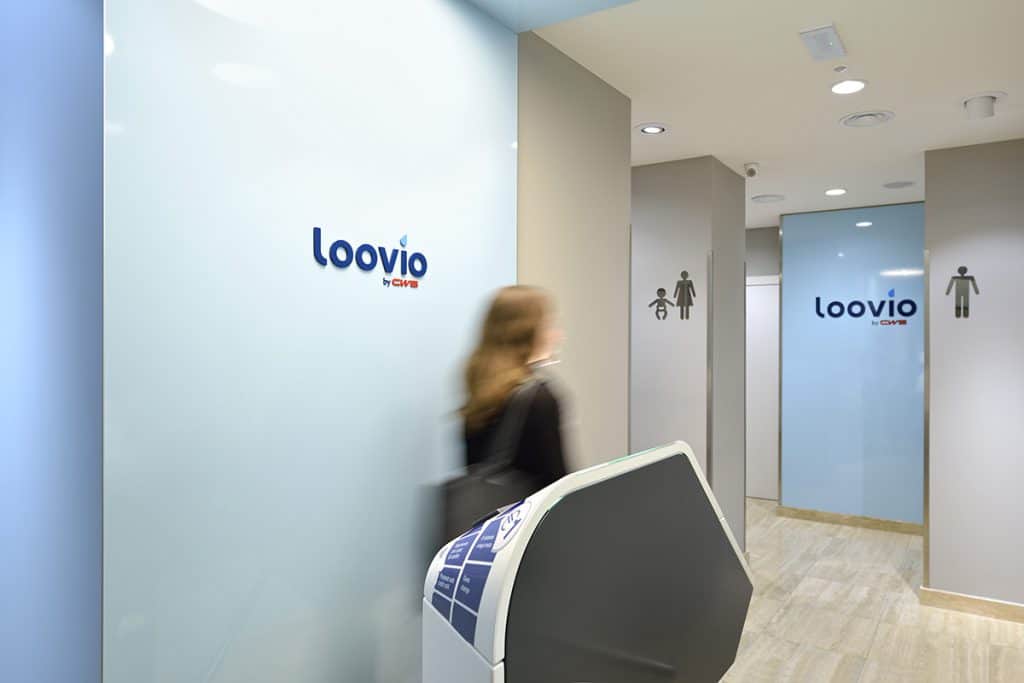 Can you drink too much water?
Yes, you can, but then you have to do your best and stay close to a toilet.
If you drink more than 8 to 10 liters of water, your kidneys will get in trouble. Your kidneys can process a maximum of 0.7 to 1 liter of water per hour. If you drink too much, your kidneys can't handle that huge amount of water. This also happens if, for example, you drink 4 liters of water in a short time (without exercising intensively in the meantime).
The excess of water causes a shortage of sodium in your blood: then you have a water poisoning . In the worst case, you can die acutely, but it can also lead to arrhythmias or fluid accumulation in the brain.
An adult needs an average of 1.5 to 2 liters of fluid per day in the form of drinks. Exactly how much fluid you need depends on your age, temperature, exercise, what you eat and your state of health.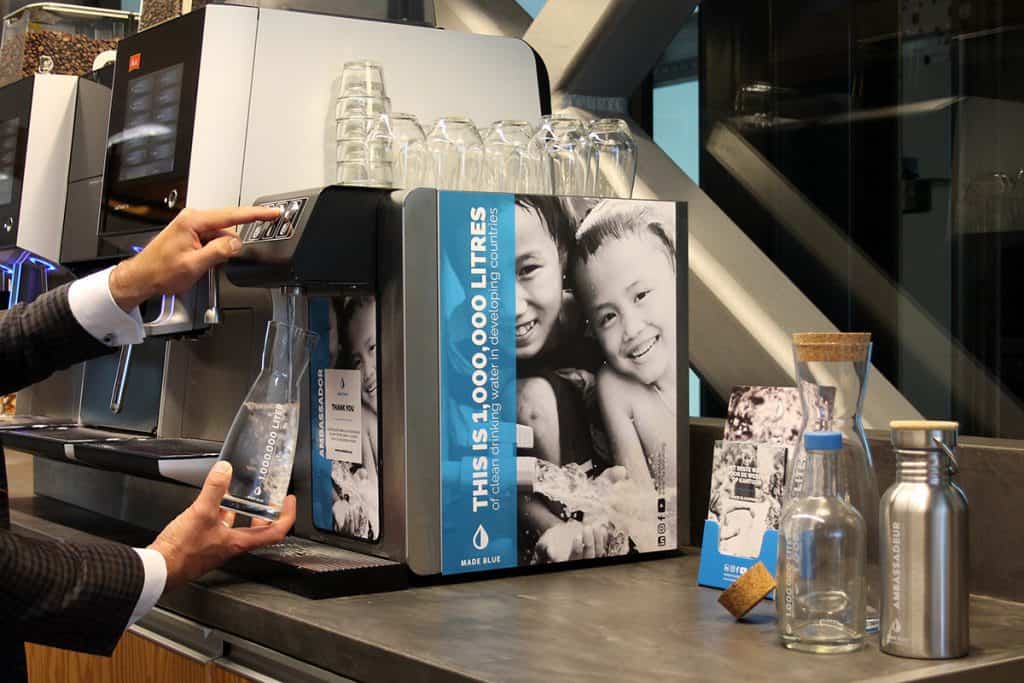 Water at work
In many offices you still have to make do with a water barrel in the corner or the tap in the pantry. You might want something fresher, especially in the summer. Then go for a water cooler with still and sparkling water.
There are water dispensers for every situation: on the worktop or built-in, free-standing or in the wall. There are even coolers that also provide hot water.
Via Made Blue you rent or buy a water cooler at cost price and you also donate to ensure that 1,000,000 liters of clean drinking water are realized in developing countries.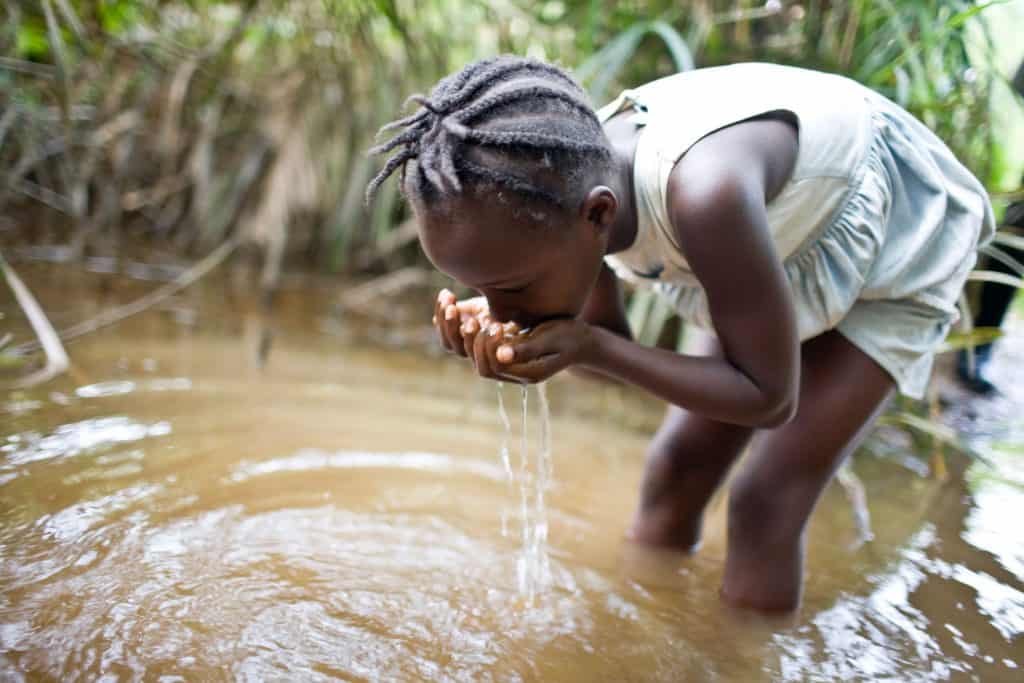 20 liters of water per day?
Access to clean drinking water is self-evident for us. For 771 million people on Earth – about the same as the entire European population – however, this is not the case. They have a day job fetching water. Water that is often still polluted, with many diseases as a result.
According to the standard of the United Nations, a minimum of 20 liters of water per day is necessary for a healthy life. Would you manage with 20 liters a day?
Water for all
We have a mission: clean drinking water for everyone!
You can help us, not only by donating, but also by shopping.
Look at what you can do to contribute.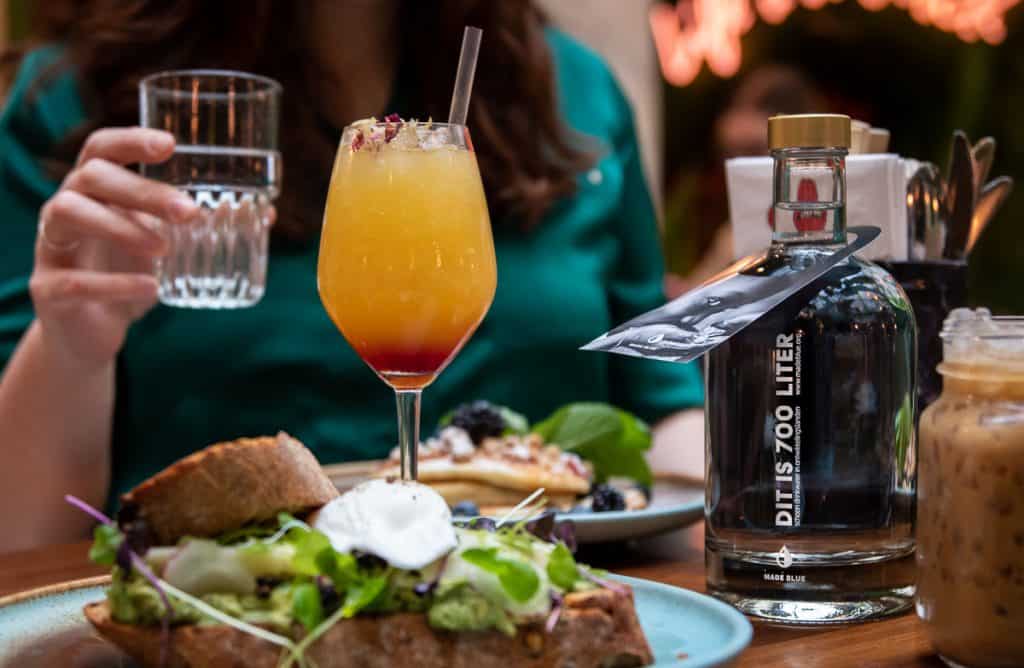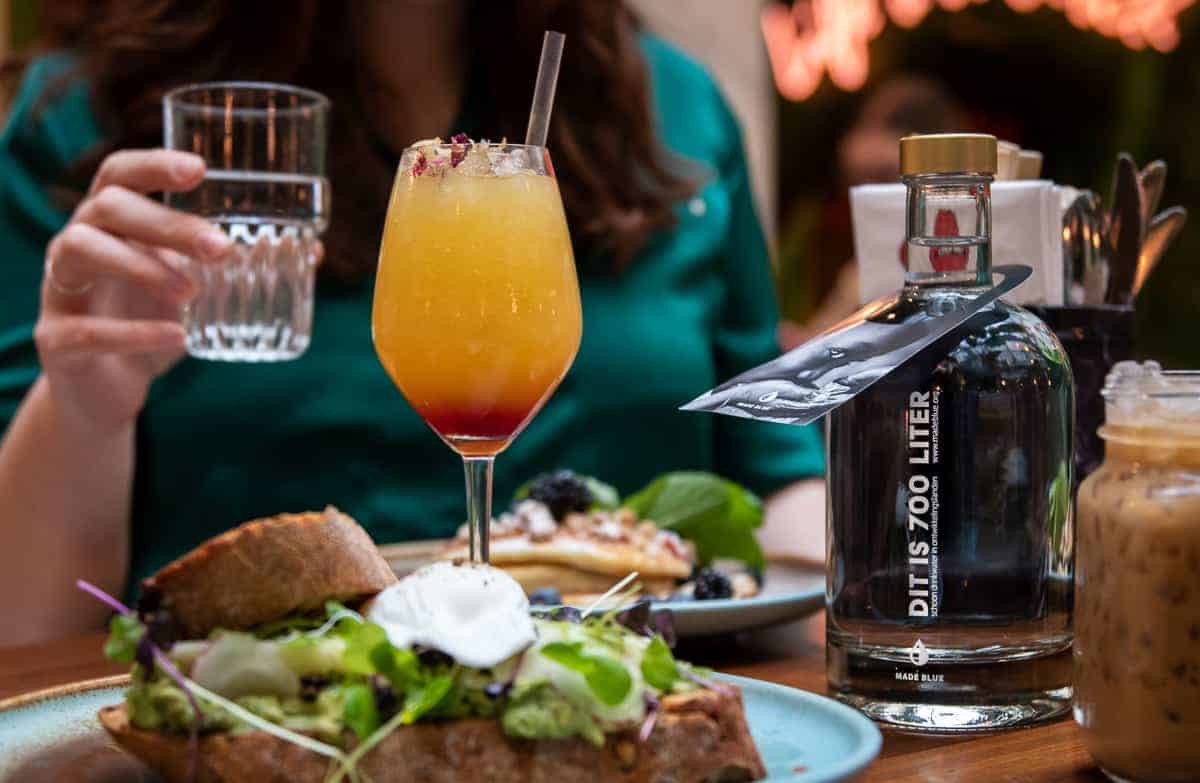 Water in hospitality
If you go out to eat, you may like to drink a glass of wine, but alcohol dries out and therefore requires more water to stay in balance. So opt for water with the wine and order a bottle of water, still or sparkling.
Unfortunately, in many cases this is spring water and that is not very sustainable because of the transport and waste. So go for restaurants with locally bottled water in reusable glass bottles!
Ambassadors of Made Blue serve sustainable water: deliciously filtered, cooled and sparkling in beautiful bottles. Each bottle provides 1000 times the content of clean drinking water in developing countries. Check out our map where you can order Made Blue.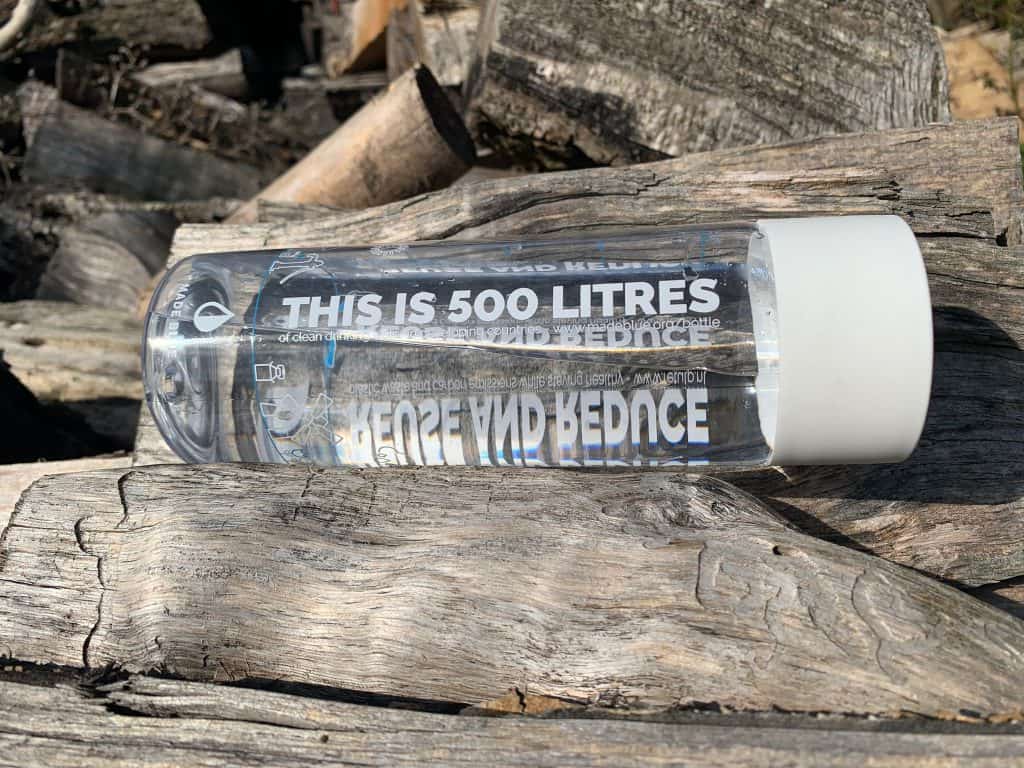 Water bottles without BPA
To get two liters of water a day, it is handy to bring your own water bottle and then it is better not to use a PET bottle. PET contains BPA, a plasticizer, and you don't want to get too much of that. The BPA can be released especially if the PET bottle gets hot, for example in the dishwasher.
So choose a BPA-free reusable bottle. That is so sustainable and healthy. Think, for example, of a bottle made of stainless steel or Tritan. At Made Blue you can already have them printed in small quantities for your colleagues or customers.
---
May be you want to read these updates too: