BPA-free bottles
Impress your guests, co-workers or yourself with a sustainable water bottle. Choose a custom design or engraving. Check out cool stainless steel (insulated) bottles, sports bottles and other innovative packaging for enjoying water on the go. In all cases ensuring 1,000 times as much clean water for developing countries.
Many options available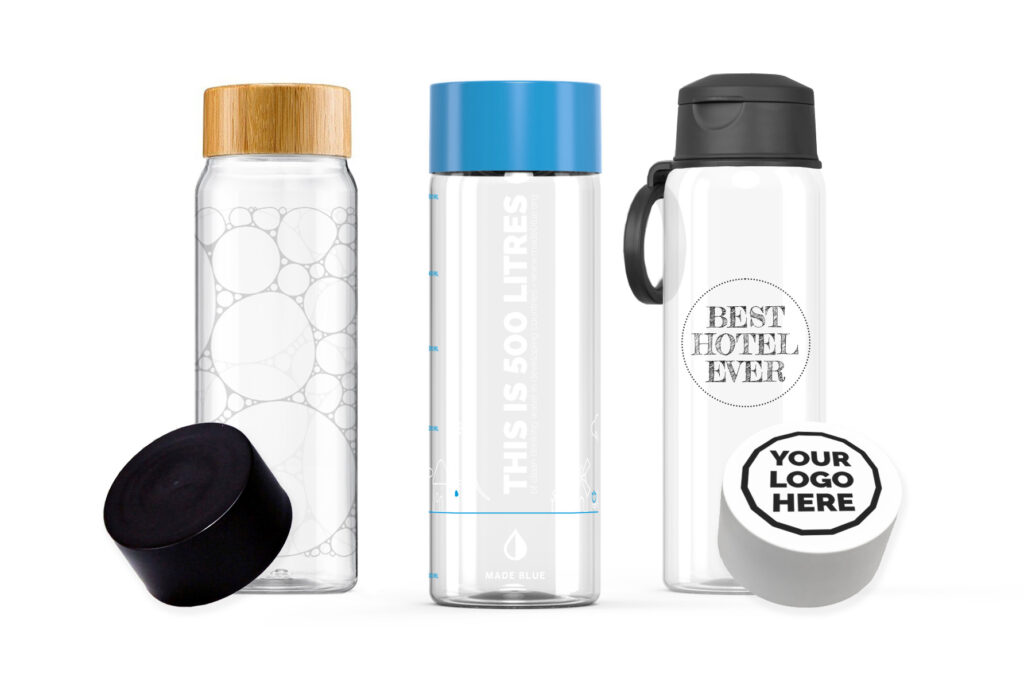 BOTTLE MADE BLUE
Long lasting and stylish, yet affordable and the perfect choice as a gift or complementary item to your guests.
500ml transparent bottle, glass-like but unbreakable
BPA-free & Made in Holland
long-life and dishwasher proof
360 full custom-design print options
Starting from 1.31 euros with a retail value of 14.95

Perfect companion to Made Blue water dispensers (for free*)

can be bottled and sealed
1,000 times as much clean water donation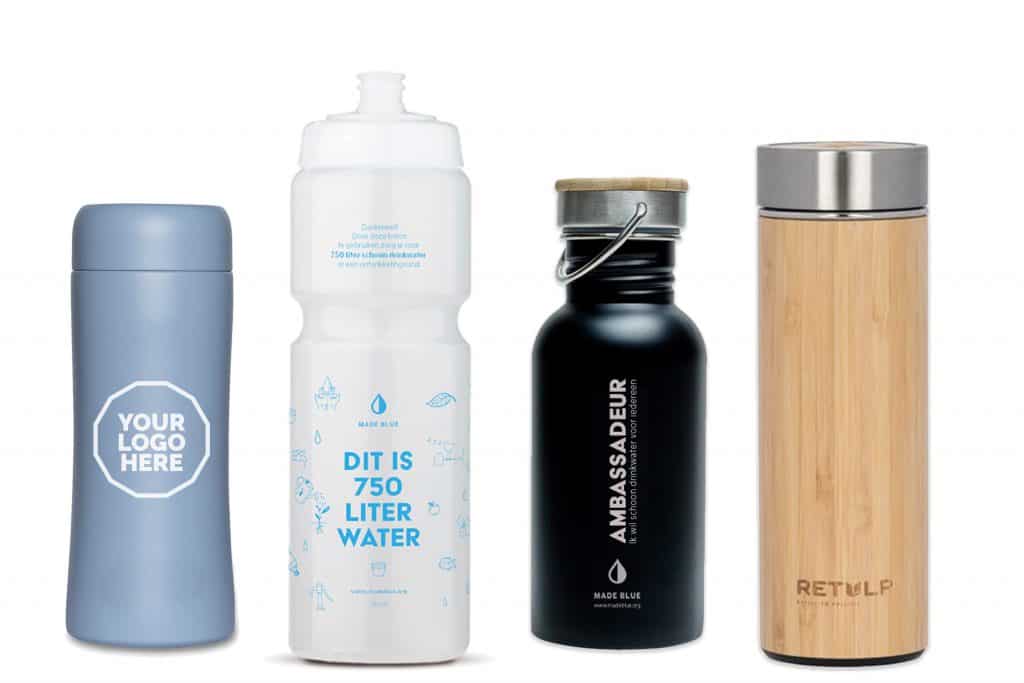 Retulp bottles
Our ambassador Retulp carries an extensive portfolio of stainless steel bottles, insulated flasks and bio sports bottles. All can be custom-design printed and ensure 1,000 litres of clean water being made available elsewhere.
Many colors, bamboo and stainless steel Custom-design printed as of 48pcs Small quantities can be ordered at the Retulp webshop made blue signature print available 1,000 times as much clean water for developing countries
WHat is BPA?
Bisphenol A (BPABisphenol A) is a chemical found in many products. BPA is used in plastics that are used in, for example, building materials, electronics, plastic bottles, (food) packaging material, implants, infusion equipment and toys. (Source: RIVM)
There is recent evidence of possible damage to the development of the immune system when exposed to BPA even at a dose lower than that on which the current European standard is based. That is why the RIVM recommends that the current European standard for safe exposure be reconsidered. In addition, the RIVM recommends reducing exposure to BPA where possible. This can be done by developing safe alternatives or by ensuring that less BPA is released from products in which this substance is used.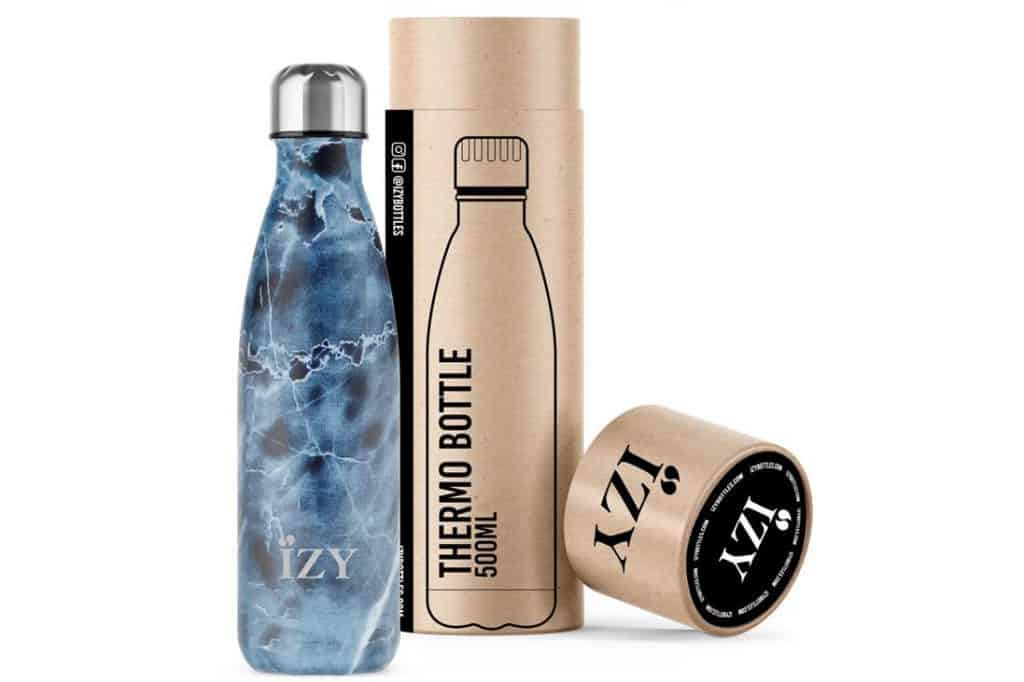 IZY-BOTTLES
Check out this remarkable insulated bottle by ambassador IZY. Choose from many prints available and add custom print or engraving if you wish.
Insulated stainless steel in 500ml and 350ml
keeps cool for 24 hours or hot for 12 hours
Many distinctive prints available
Custom-designed printing as of 30pcs
As of €10 and within 48 hours
1,000 times as much clean water donated
To be ordered per item in the IZY webshop.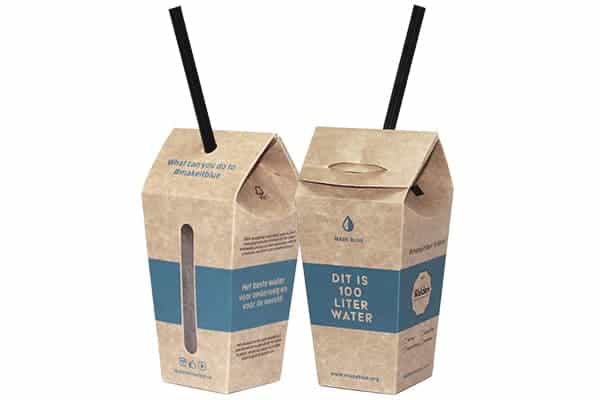 Pop-up cups
This award-winning packaging can not be reused, but is very sustainable nonetheless. It is transported folded which saves a lot of space. Click here for a demo.
350ml or 450ml Recycled cardboard with plastic inner bag Easy-fold into a sealed water container Pastic and cardboard can be easily separated for recycling 360 full-color custom-design printed Starting at €0,12 As of 400pcs Including 100 litre clean water donation
Guests are happily surprised and enjoy nice water to go: sustainable and friendly.
Tell me more
Fill out this form and we'll get back right away
CLEAN WATER FOR ALL
That's our mission and that's why the best water to go ensures access to clean water in developing countries. Each water bottle donates 1,000 times as much clean water to people in need. Bottled waters ensure 100 litres of clean water made available.